For those who are traveling to and from Doha, Qatar: Please be advised that Gulf Air and other airlines have suspended flights to this city. These airlines include Air Arabia, Egypt Air, Emirates, Etihad Airways, Fly Dubai, and Saudia.
The suspension goes in line with recent news, Bahrain issues statement on cutting relations with Qatar. If you have already booked a flight with these airlines, please contact your travel agent so that you can adjust or update your travel arrangements.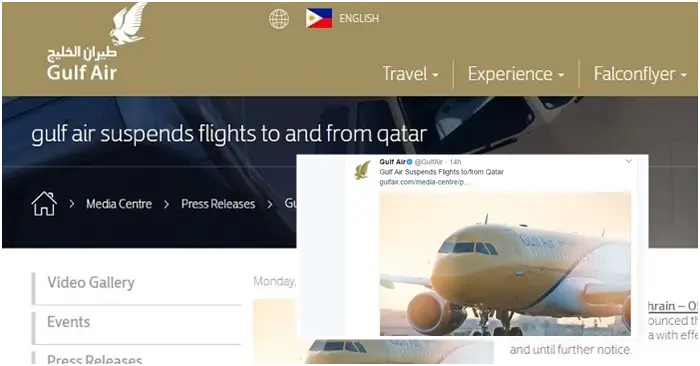 List of Airlines that have Suspended Flights to Doha, Qatar
Most of the airline companies have announced that the flight suspension starts on June 6, 2017. You can check out their official statements below so that you can be guided accordingly:
Air Arabia – link to statement
Egypt Air – link to statement
Emirates – link to statement
Etihad Airways – link to statement
Fly Dubai – link to statement
Saudia – link to statement
Gulf Air –link to statement
Gulf Air also made the announcement on their official Twitter account:
Gulf Air Suspends Flights to/from Qatarhttps://t.co/08dCPQenYk pic.twitter.com/t8Vqg4MmSp

— Gulf Air (@GulfAir) June 5, 2017
Aside from the flight suspension, here are more details of what you may need to know regarding the announcement:
Bahrain is closing its territorial waters, ports, and airspace to shipping and air traffic to and from Qatar.
Qatari residents and visitors are given 14 days to leave Bahrain.
Citizens of Bahrain are banned from traveling to or staying in Qatar.