The Interior Ministry of Bahrain has announced that anyone who expresses sympathy for the Qatar government could spend up to five years in jail and pay a hefty fine. This includes any spoken or written form, including posts on social media.
The announcement was made after Bahrain issued a statement on cutting relations with Qatar. Consequently, the Kingdom has closed its airspace, ports, and territorial waters to the country. Qatari nationals have also been barred from entering or transiting through Bahrain.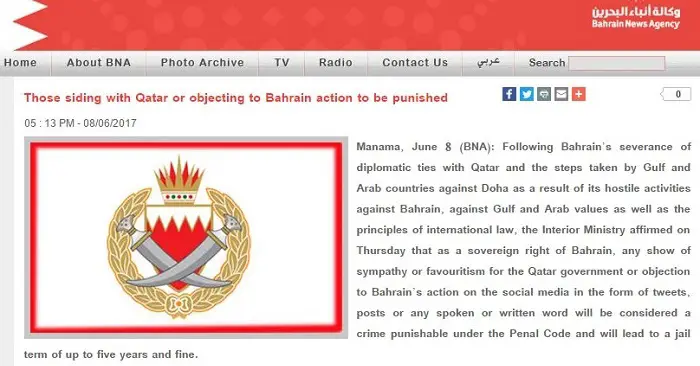 In a post from Bahrain News Agency (BNA), the Interior Ministry warned that Qatar sympathizers would face jail time and a fine. Please read the full statement below:
Those Siding with Qatar or Objecting to Bahrain Action to be Punished
Manama, June 8 (BNA): "Following Bahrain's severance of diplomatic ties with Qatar and the steps taken by Gulf and Arab countries against Doha as a result of its hostile activities against Bahrain, against Gulf and Arab values as well as the principles of international law, the Interior Ministry affirmed on Thursday that as a sovereign right of Bahrain, any show of sympathy or favouritism for the Qatar government or objection to Bahrain's action on the social media in the form of tweets, posts or any spoken or written word will be considered a crime punishable under the Penal Code and will lead to a jail term of up to five years and fine.
This step is being taken to maintain the security and civil peace and protect the supreme national interests."
Similarly, the Ministry of Information Affairs has cautioned the media to avoid publishing anything that condones or justifies Qatari policies. The ministry also warns that anyone who publishes or circulates such material will be held responsible before the law.