Bahrain is eyed by many OFWs because of the high conversion rate of their currency. We have a number of Filipino workers who have been residing in this country for better opportunities. However, before you decide to take any job in Bahrain, you might want to know how much a regular worker earns and what are the cost of living expenses included when you plan to live in this country.
How much is the monthly expense as an OFW in living in Bahrain?
A fellow Kabayan was willing enough to help us understand the monthly expenses in Bahrain by sharing details of his earnings and expenses. Let this serve as a guide for expats who are planning to establish a career in this region.
Profession: He works as a Landscape Designer and earns 415 BHD (Bahraini Dinar) which is about 50,400 Php.
Cost of Living in Bahrain for Expats
1 Bahraini Dinar = 122.55 Philippine Pesos
He mentioned that the ideal earnings of an OFW in Bahrain should range between 450-500 Bahrain Dinars. Below, he illustrated how he does the budgeting of his earnings on a monthly basis.
Net Monthly Salary: 415 BHD = 50,400Php (estimate)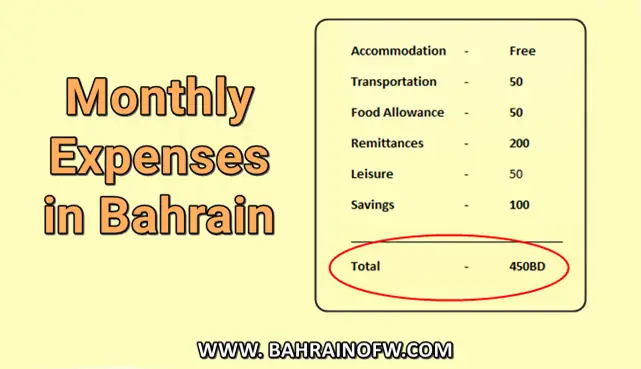 Breakdown of Monthly Salary and Expenses
Below are the following expenses divided according to basic necessities and remittances. Please go over the information below:
a. Accommodation – FREE
Company has provided me a free accommodation villa. Depending in the line of job you are in, company usually provides accommodation. The type of accommodation provided will depend on your job title in the company.
b. Transportation – 50 BHD
I drive a car provided by the company however I spend approximately 50 BHD monthly for gas.
c. Groceries / Food Allowance – 50 BHD
I must say I spend 50-100 BHD monthly for my own food. Usually, I get the chance to eat food given by friends and colleagues so that helps me to save up.
d. Remittances – 200 BHD
To pay my house bills and also to provide financial support to my family, I send 200 BHD on a monthly basis.
e. Leisure – 50 BHD
There are times that you want to go out and dine out, that are a reward for us OFWs. While we are away we need to motivate ourselves in anyway but we always keep a tight budget on this as much as possible. I spend around 50 BHD monthly on this.
f. Savings –  100 BHD
I make sure to save 50-100 BHD from my earnings monthly. This is the money that we use whenever I have plans of vacations, buying some investments or at least to be used for emergency purposes.
Our OFW kabayan mentions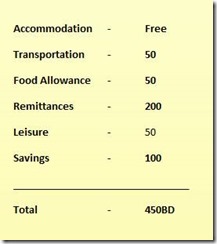 that he usually gets paid on a cash basis and most transactions are still on cash basis as well. He makes sure that he sets aside money right away according to priority.
He adds that no matter how huge the salary you get from your job, it will always depend on how you manage your finances. When you are away from your family, it is always wiser to save as much as you can so it can be used for different purposes.
Note: This is just an estimate of cost of living in Bahrain to give you an idea of the monthly expenses that expats spend in this country. Make sure to manage your finances very well so you won't get any financial trouble. We hope that this serves as a helpful guide for you to understand the costs in this country.