It's Christmas holiday season and for plenty of OFWs, it's another time where balikbayan boxes are commonly sent to our loved ones back home. LBC Express, leading cargo company in the Philippines, has teamed up with Al Fanar Travel Company in spreading holiday cheer with the Pinoy Travel Fest 2017 which happens from December 1-31, 2017
Those who will participate in the Al Fanar Pinoy Travel Fest 2017 will enjoy exclusive cargo discounts from LBC.
AL FANAR PINOY TRAVEL FEST 2017
Duration: December 1-31, 2017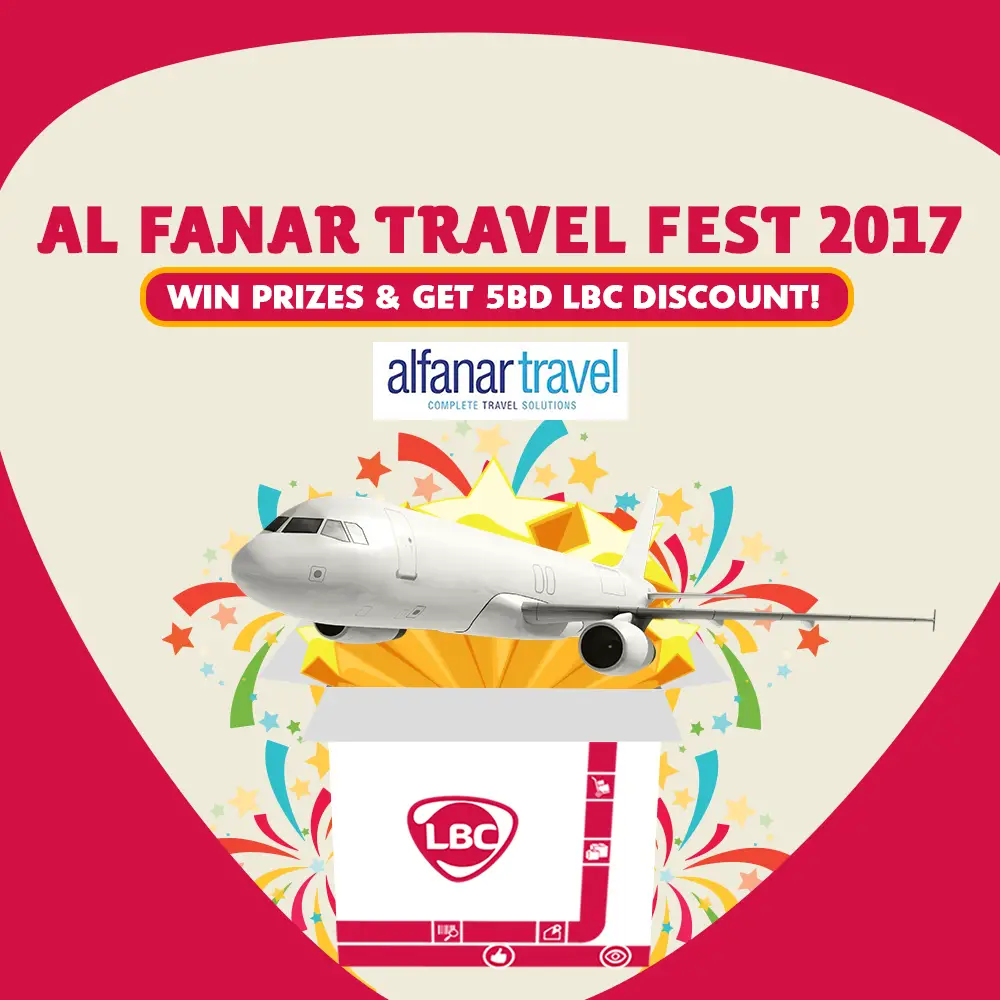 Al Fanar Pinoy Travel Fest 2017
Al Fanar Travel Company and LBC have been partners since 2015. This holiday season, LBC extends its support to the travel company as it aims to provide exciting offers for OFWs in Bahrain. In case you're wondering what are the mechanics and the prizes you can get, below are more details of the said promotion:
Special LBC Offer for Al Fanar Customers:
All customers who purchase any service from Al Fanar Travel Company are qualified for an exclusive BD5.000 DISCOUNT from LBC for any sea or air cargo with a minimum worth of BD20.000. Just present your stamped Al Fanar Travel receipt upon transacting with LBC to avail the discount.
Mechanics of Al Fanar Pinoy Travel Fest:
Fly Cheap and Win Big in the Al Fanar Pinoy Travel Fest 2017! Enjoy exclusive offers on airfare to the Philippines. Avail any service during the Al Fanar Pinoy Travel Fest 2017 from December 1-31, 2017 and get a chance to win any of these exciting prizes:
Free Large Balikbayan Box Sea Cargo Transaction (5 winners)
Roundtrip tickets to the Philippines
Roundtrip tickets to Dubai
2N 3D Hotel Accommodation for 2 in a 4-star hotel in Bahrain
Winners to be drawn and announced on January 4, 2018!
LBC Truck ni Kabayan  – Like & Share the Al Fanar Travel Fest Video Promo:
As part of the Al Fanar Pinoy Travel Fest 2017 promo, all LBC customers who are planning to send their boxes from December 10 to 25 can also enjoy a BD2.500 discount on their sea or air cargo padala and get a chance to win a Free 5kg Air Cargo transaction by simply liking the Facebook page and sharing the video below: https://www.facebook.com/LBCExpress.Bahrain/videos/2041463412733996/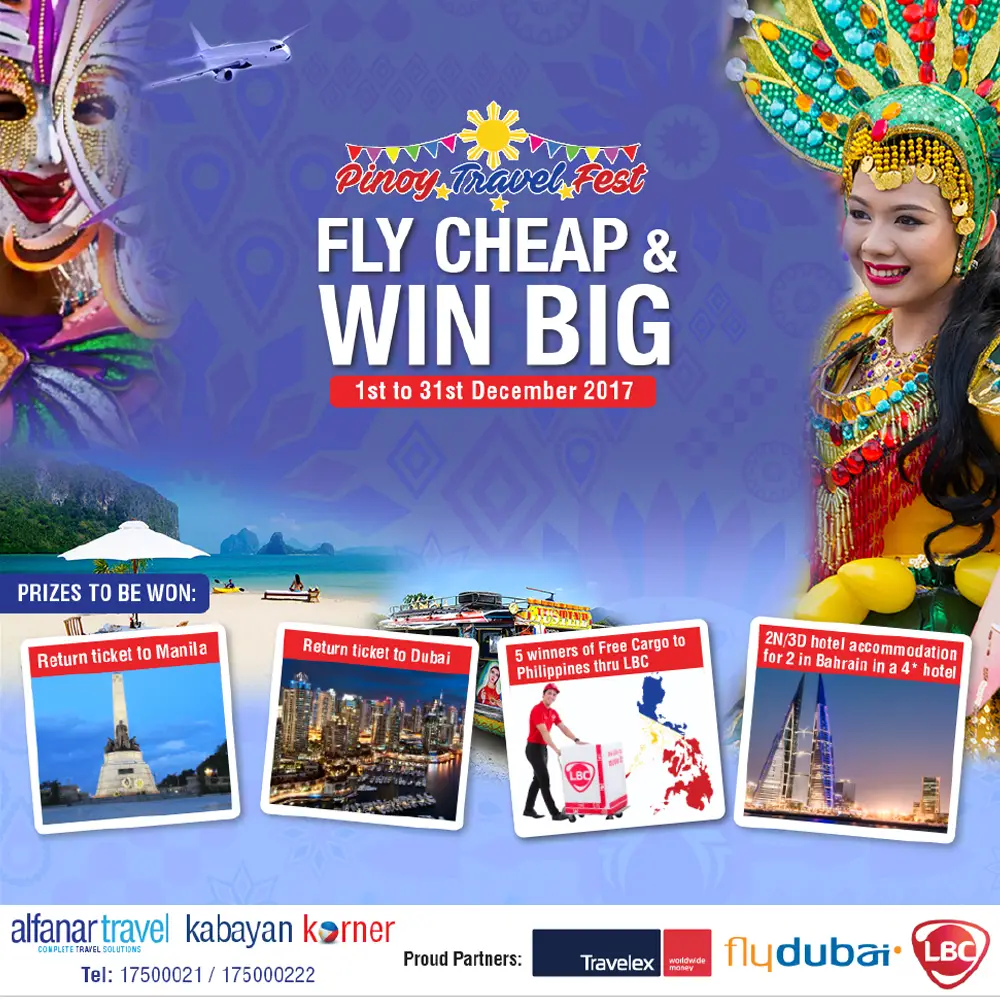 Don't forget to like the LBC Express Facebook page and share the video for a chance to win a free 5kg air cargo to be announced on December 26, 2017!
If you want to move your boxes this holiday season, call the LBC hotline at 16195063.
Get to know more about the Al Fanar Pinoy Travel Fest 2017 offers by calling the Al Fanar hotline at 17500021 / 175000222 or visit Al Fanar Travel Kabayan Korner.