The creation of the One Repatriation Center (ORC), a centralized agency for processing and coordinating repatriations, is significant in that it will speed up the work  overseas Filipino workers and their families have to do for repatriation purposes. The goal of the center is to help Filipinos who are stranded in other countries get back home. They do this by facilitating the repatriation process, which is a very tedious and time-consuming process. The ORCC will also help to ensure that no Filipino worker is stranded in a foreign country without legal papers.
The establishment of the One Repatriation Command Center (One Repat-DMW) has been welcomed as a positive development in addressing cases of worker abuse and exploitation. However, with its recent establishment, many people are unaware of what the center does or how it works. This article aims to provide an overview of these operations so that readers will be better informed about the work being done there.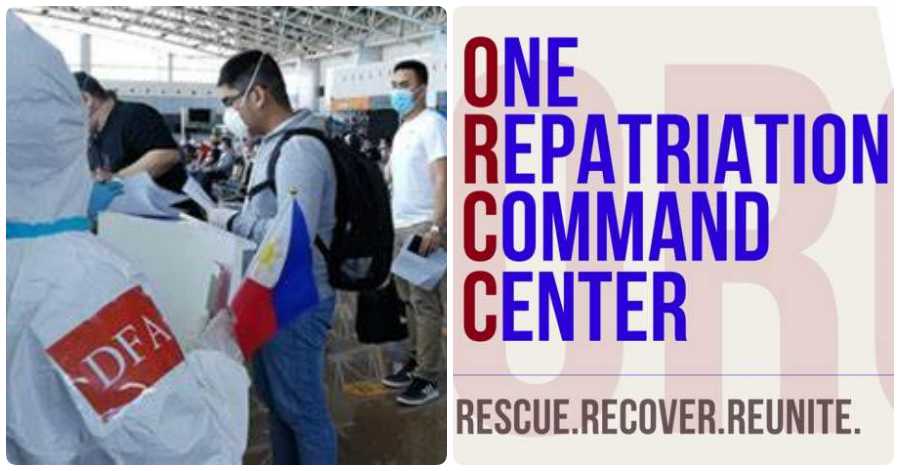 What is the Meaning of ORCC?
The acronym ORCC stands for One Repatriation Command Center. It is a government agency that helps facilitate the repatriation of Filipino workers who have been stranded or injured overseas. It helps to ensure the safe return of family members who have been abused or exploited.
To date, the number of abused and exploited OFWs who have been repatriated by the center is at least 2,000. This figure is higher than the number of distressed workers assisted by other government agencies. The command center also helps to facilitate the repatriation of OFWs who have died overseas due to natural causes or accidents. In addition, it provides assistance in cases where a worker has died because of an employer's negligence or abuse.
The ORCC will be operating under the DMW in dealing with cases involving repatriation and support for OFWs in distress. The ORCC will coordinate with other government agencies to provide assistance for OFWs in times of trouble.
Purpose of ORCC
For many years, there was no single agency responsible for monitoring the return of Filipinos working overseas. This issue is now expected to be resolved through the establishment of the One Repatriation Command Center (ORCC). This will provide a point of contact for Filipinos who need assistance and serve as a repository for information about their work status.
Establishing the ORCC will help improve coordination efforts among agencies responsible for repatriating Filipino workers. It will also provide assistance to Filipinos in need of it—through a single channel. The agency's goal is to eventually be self-sufficient, as the DSWD is already burdened with a lot of work related to the issue.
The agency will serve as the primary resource for overseas Filipino workers, who are often exploited. It will provide them with legal and social services so that they may be better protected from abuse. The agency also plans to implement legislation focused on Filipinos working abroad and their families back home in order to ensure just treatment of both groups.
Before the establishment of the ORCC, many Filipino workers abroad had to go to various government agencies for assistance. With its help, they can now get help quickly—and process documents more efficiently than ever before.
Functions and Responsibilities of ORCC
The ORCC is the national agency that helps Filipinos working overseas. It should also provide legal aid, medical assistance, and employment opportunities to help returning workers sustain themselves once they return home.
The ORCC is also responsible for ensuring that the well-being of Filipino migrant workers is a vital component of the DMW. It should additionally inform them about laws and regulations that affect them abroad and help victims of human trafficking or illegal recruitment who have returned home from overseas work.
The ORCC provides Filipino workers protection from mistreatment and exploitation by ensuring that all OFWs are covered under an employment contract. It should also help resolve disputes related to their contracts.
List of Programs and Services of ORCC
Although the organization has yet to provide its long-term services and programs, it has already started by establishing a 24-hour hotline that provides overseas Filipino workers and their families with the necessary information—such as medical assistance or repatriation support—and assistance.
The organization aims to protect and provide legal assistance to overseas Filipino workers. It will also help resolve disputes between these workers and their employers and assist them in repatriation—the process of returning home from a foreign country.
One Repatriation Center Hotline – 1348
The One Repatriation Center can assist Filipino families who are trying to get their workers back home. The Center's toll-free helpline, at 1348, provides assistance in this regard.
The hotline is available to help the families of overseas Filipino workers to find information about repatriation procedures, the status of their relatives and other resources when needed.
However, the DMW asked that family members of affected OFWs manage their expectations and understand that help or assistance may not be immediately provided by the government center since they're all working on a tight schedule to help as many OFWs as possible.
The One Repatriation Center is manned by personnel from the Department of Foreign Affairs (DFA), Department of Labor and Employment (DOLE), Overseas Workers Welfare Administration (OWWA) and other government agencies.
The DMW asked the families of OFWs to be patient, since they would have to deal with large numbers of calls from relatives and friends.
ORCC HelpDesk Office Operating Hours
You can also contact the agency's help desk, which is available from 8 a.m. until 5 p.m., Monday through Friday; building support staff is available 24 hours a day, 7 days a week (though offices are closed on weekends).
ORCC 24/7 Hotline – 1348
Email – repat@dmw.gov.ph
You can reach theOne Repat-DMW or ORCC by calling 1348 or sending an email to repat@dmw.gov.ph. An agent will be able to answer your call, or assist you online if necessary.
If you are a Filipino worker who is overseas, you can contact the POLO-OWWA or DMW in your country—or whichever organization governs migrant workers in that particular nation. However, if there is no official labor office where these groups operate, then coordinate with the DFA instead.
Video: Dept. of Migrant Workers Launches 'One Repatriation Command Center'
In this video, the Migrant Workers Department has introduced a new facility that can meet the needs of our kababayans who wish to return home.
Toots Ople, the DMW secretary, said that the One Repat-DMW is available for walk-ins and can be reached by phone or email. It will also allow OFWs and their loved ones to provide feedback on government concerns—and do so immediately!
Frequently Asked Questions
1. How does the Centralized Command Center assist OFWs?
The Department of Migrant Workers' One Repatriation Command Center will be a centralized hub that monitors the repatriation of distressed overseas Filipino employees. It also coordinates with government agencies and various groups to accomplish this goal.
2. What is the importance of the One Repat-DMW?
The Department of Migrant Workers through the One Repat-DMW will coordinate and supervise the efforts of other government agencies to help thousands of Filipinos who want to return home.
3. What is a repatriated OFW?
The government provides emergency aid to Filipino workers overseas when their native country is in a state of political instability or natural disaster. The OWWA Halfway House, run by the Overseas Workers' Welfare Administration (OWWA), offers lodging and other services to these distressed workers.
4. How does the One Repat-DMW manage repatriation cases?
If an overseas Filipino worker or their family members are having difficulties getting back to the Philippines, they can contact One Repat-DMW's 24/7 hotline at 1-348 and a case officer will be dispatched. Walk-in requests are also accepted.
5. How does the ORCC address the issues of OFWs in distress?
In the past, many OFW families had to rely on various agencies for assistance. Now they can get immediate help through the ORCC and avoid costly debts caused by waiting for government agencies.
6. How does the ORCC help repatriate OFWs who are in distress?
The agency will provide support to returning OFWs, helping them find new jobs and assist in their repatriation.
7. What is the role of the OFW-focused agencies in the repatriation process?
The ORCC, POEA, and DOLE are government entities that provide free assistance with return trip tickets or other travel documents as well as financial assistance for repatriation fees if needed. They also help in job placement overseas for those who want to work abroad again.
Summary
The DMW established the One Repatriation Center (One Repat-DMW) to address the various challenges that Filipinos working overseas face. This facility is also intended to aid in the repatriation of individuals—in case one gets caught up in a crisis or disaster.
The facility is in the Blas F. Ople Building near Ortigas Avenue, and it has a branch office at OWWA.
The establishment of the One Repatriation Center by the DMW is essential in assisting Filipinos working abroad. It allows them to receive immediate assistance as well when they have problems or difficulties like illness, accident, death and other unexpected situations where repatriation support is needed.
Monday through Friday, from 8 a.m. to 5:00 p.m. On weekends, its 1348 hotline is also open for enquiries. You can also contact One Repat-DMW at repat@dmw.gov.ph.
READ NEXT: How to Contact Philippine Embassy in Manama, Bahrain
Contact Information: One Repat Center
Address: 2nd floor of the Blas F. Ople Building, EDSA corner Ortigas Avenue
Operating Hours: Mondays to Fridays, 8am to 5pm
Telephone Number: 1348 (available 24/7, even weekends)
Email: repat@dmw.gov.ph
Website: https://dmw.gov.ph/
Facebook Page: https://www.facebook.com/dmw.gov.ph
Google Map Location