If you're visiting Manama, Bahrain for the first time, whether for work or recreation, one of the things you should know about is the location and how to contact the Philippine Embassy in the country. The Philippine Embassy in Manama is located at Villa 939, Road 3220, Blk. 332, Bu Asheera, Mahooz Area.  The office is located behind the Brunei Embassy and beside Abu Asheerah Garden.
Also Read: How to Book an Online Appointment at the Philippine Embassy in Bahrain
The Philippine Embassy in Manama, Bahrain, provides a comprehensive range of consular services to both Filipino and non-Filipino citizens. The address, phone numbers, fax numbers, email, official website, and opening hours for the Philippine Embassy in Manama are all included in this guide. To learn more, continue reading.
What is the Purpose of the Philippine Embassy in Manama, Bahrain?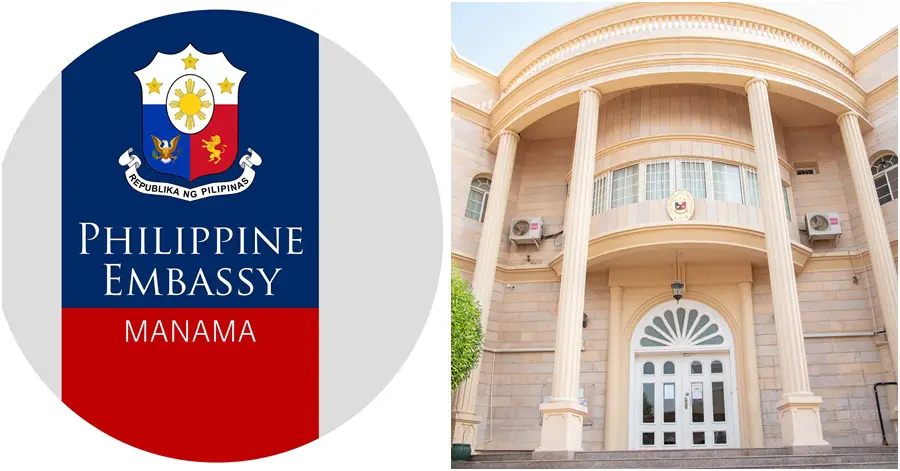 The cordial and friendly relations between the governments of the Philippines and Bahrain have remained unchanged since their establishment in 1978.
Through the various mechanisms established by the two countries, they will continue to strengthen their relations in various areas.
In the political sphere, the Philippines and Bahrain engage on mutual exchange of support for international organizations and candidatures.
Fifteen agreements have been signed between the governments of Malaysia and Turkey. These agreements cover various sectors such as air services, manpower recruitment, education, and taxation.
The visits of officials from both countries have greatly improved the relations between them.
As of 2007, the Philippines has a trade surplus with Bahrain of about USD 1 million, which includes aviation fuel, household equipment, and pasta. Its imports from the Kingdom include motor cars and other vehicles.
Tourism arrivals from the Philippines to Bahrain are expected to increase by about 2% this year. The boost in tourism comes from the assistance that the Philippines received from Bahrain, which is known for its Islamic communities.
Through the various programs and policies, the Bahraini government has been able to accommodate the needs of the Filipinos in the country.
Through the regular visits of officials of the two countries, regular trade and investment missions, and the holding of foreign ministry consultations, the Philippines and Bahrain's relations have strengthened and expanded.
The presence of about 40,000 Filipinos in Bahrain has strengthened the relations between the Philippines and the Kingdom of Bahrain. It has also created a strong awareness about our people and culture.
What are the services offered by the Philippine Embassy in Manama, Bahrain?
The Philippines has embassies and consulates in a number of countries across the world. They operate as go-betweens for the country's foreign interests.
The embassy's objective is to provide specialized services to residents in the local community and around the world.
The Philippine Embassy in Manama, Bahrain provides a variety of services, including consular services (Authentication Services, Notarial Services, Other Consular Documents, Authentication of Consular Documents Issued in the Philippines, and NBI Form Fingerprinting), as well as a variety of other services, as listed below:
PROMOTION OF NAT'L SECURITY AND POLITICAL COOPERATION
The Embassy of the Philippines carries out its mission to promote and protect the country's territorial integrity, national security, and economic stability. It coordinates with other agencies and institutions to address these areas.
The embassy also supports the country's participation in international forums and conferences. It coordinates with other agencies and organizations to promote the Philippines' interests in various international organizations.
The Embassy also provides various consular services to Filipino nationals. Some of these include passport issuance, renewal, and amendments, visa issuance, and registration of births and marriages.
Authentication Services: Before being utilized in the Philippines, all official documents issued in Bahrain, including government documents, corporate agreements, and records, must be approved by the Bahrain government. Apostille certificates must be affixed to each document that has been validated by the government.
Notarial Services: The Philippine Embassy in Manama, Bahrain provides notarial services similar to those provided by a notary public in the Philippines.
Notarial services are only available to assist in the preparation of legal papers. They do not include power of attorney drafts, deeds, or other comparable documents.
Embassy officials are NOT PERMITTED to act as witnesses in a notarized document.
Important:
Individuals seeking notarial services should go to a consular officer's office and sign the document for notarization.
Bring your passport or a copy of the data page and a valid identity document.
Your name and signature should match the information in your passport at all times.
The Embassy's red ribbon initiative has come to an end. The gold seal is instead fastened to the certificate.
The claim stub specifies the date when the document will be issued. If you need to reschedule the document, please use this LINK to get in touch with us.
Passport: All passport applications must be submitted to the Philippine Embassy in Manama, Bahrain. They must also supply their fingerprints and signature in addition to their photograph.
Passports are issued by the Philippine government to allow people to travel freely. This law was enacted to protect the rights of citizens.
The government is also in charge of assuring the validity and integrity of all travel-related documents and procedures. Even after earning foreign citizenship, Filipinos can obtain a Philippine passport.
Visa: Foreigners and nationalities interested in visiting the Philippines can use the Philippine Embassy's immigration services. They will be able to receive the essential paperwork to enter the country as a result of this.
The employer is normally in charge of work visa applications. Before a visa can be obtained, all of the essential paperwork must be submitted. Applications that do not meet all of the visa requirements will be rejected. After five working days, these will be accepted. Furthermore, international residents can use this service to:
Seek for immigration guidance and assistance.
Obtaining national visas requires access to documentation.
Visas and work permits for the Philippines can be applied for and submitted online.
Assistance to Nationals (ATN) – The Philippine Embassy's Assistance-to-Nationals Section (ATN) is available to assist overseas Filipino nationals in distress 24 hours a day, seven days a week.
Individuals who are referred to as "desperate nationals" are those who have psychological or medical problems that require assistance or treatment in a foreign country.
The ATN Section of the Philippine embassy assists Filipino workers in the resolution of their visa issues and in their repatriation back to the Philippines.
The Philippine Embassy's Assistance to Nationals (ATN) branch provides consular assistance in response to urgent requests from Filipino individuals and organisations. These acts are addressed on an individual basis, and include:
Observation of court cases;
Visiting prisoners in prison;
Consultations with Singapore officials;
Assisting with repatriation; and
Police and immigration matters in coordination with family or next-of-kin.
SOCIAL SECURITY ASSISTANCE – If you are a Filipino residing or working in Manama, Bahrain, and you have SSS membership, then you can now continue with it. This is because the Philippine Embassy in Bahrain has opened their doors to extend SSS assistance to Filipinos residing in the Kingdom of Bahrain. Due to the frequent attempts of members to log in to the SSS website or account, many of them have had their accounts blocked. This issue, the government has come up with an alternative solution that is to open an office in Manama, Bahrain to serve as a bridge for the agency's members.
Here are the Embassy Sections in the Philippine Embassy in Manama, Bahrain:
Political
Economic
Cultural
Consular
ATN
Labor
Welfare
Social Security/Housing Services Sections
Where is the location of the Philippine Embassy in Manama, Bahrain?
The Philippine Embassy in Manama, Bahrain is located in Villa No. 939, Road 3220, Block 332, Mahooz, Manama, Kingdom of Bahrain. Their office is located behind the Brunei Embassy and beside Abu Asheerah Garden (1-minute drive). The consular section of the Embassy is open from 8 a.m. to 3 p.m. Monday to Thursday, and from Sundays to Sundays.
What is the Contact Number of the Philippine Consulate in Manama, Bahrain?
The Philippine Embassy in Manama, Bahrain has a dedicated landline for business purposes. You may reach them via 1772-1234. You may also send them a FAX message at 1772-0827. If you need to reach the Overseas Workers Welfare Association (OWWA), you may call them thru +973 17721908 (during office hours) or +973 34673268; +973 37258755; 38270741 (anytime in the day). You may also contact the Philippine Overseas Labor Office (POLO) at +973 17740951. .You may also send them a FAX message at +973 17740829 or talk to their 24/7 hotline officer at 38072476.
What is the Website of the Philippine Embassy in Manama, Bahrain?
Visit their official website at https://manamape.dfa.gov.ph/ to learn more about all of the services provided by the Philippine Embassy in Manama, Bahrain.
Here are the services and programs listed on their website:
Consular Outreach Program
Passport
Adult New Applicant
Adult Renewal Applicant
Minor New/ Renewal Applicant
Travel Document
Authenticating Documents Made Simpler by the Apostille
Civil Registry
Solemnization of Marriage
Report of Marriage
Report of Birth
Report of Death and/or Consular Mortuary Certificate
Dual Citizenship
Visa
Waiver of Exclusion Ground
Certificate of Not the Same Person
Balikbayan Program
Schedule of Consular Services and Fees
Consular Service Fees and Turnaround Time
List of Other Services
Transport of Pets
NBI Clearance
Renewal of Philippine Driver's License
Securing a Jl-Waiver
PH Requirements for Medical Missions
Departure Formalities
Philippine Overseas Labor Office
Issuance of Overseas Employment Certificate
OWWA Membership Program
Employment Contract Verification and Authentication
Implementation of POEA Rules on Direct Hiring
What is the Facebook Page of the Philippine Embassy in Manama, Bahrain?
To expand its reach to more Filipinos in Manama, Bahrain and those who wish to visit the country, whether for work or any other purposes, the Philippine Embassy in Manama, Bahrain has launched its official Facebook page (https://www.facebook.com/PHLinBahrain/).
How to Make an Appointment to Visit the PH Embassy?
To take use of the above-mentioned services offered by the Philippine Embassy in Manama, Bahrain, you must make an appointment online. The embassy has divided appointment booking into several categories, as shown below:
Passport Appointment System: (http://passport.gov.ph/)
Notarial and Civil Registry Services Appointment System: (https://bit.ly/3udspoS)
Video: How To File A Passport renewal At The Philippine Embassy In Manama Bahrain
Here's a video shared by an OFW based in Manama, Bahrain. He shared his experience about filing a passport renewal application at the Philippine Embassy and according to him, the entire filing process took him only five minutes. This does not include the waiting period for the passport release. So he went on to explain how he was able to do all this when he went to the Philippine Embassy. So, before you go there, you have to know that there are several things that you should and shouldn't be doing. First, you have to book an appointment. Then, prepare your application documents beforehand, as well as the documentary requirements. Finally, the payment (25 BD) that you have to settle at the embassy for your passport renewal application. Once you've got all the bases covered then all you need to do is to submit everything on site. And then from there, they will inform you as to when you can expect to receive your passport or have it delivered to your place. So that's basically what you need to do to renew your passport in Manama at the Philippine Embassy.
Tips When Visiting The Embassy
1. Prepare the required documents
The first piece of advice we'd want to provide you is to make sure you have all of the necessary documentation. Before going to the embassy, you will undoubtedly save time, money, and effort if you follow these pieces of advice. Once you've gathered all of the necessary documents.
Remember to pack them in your bag the night before. So that you don't forget anything in the morning, write down your appointment. Also, don't forget to bring photocopies. Only copies of the documents will be submitted. If you want to use a variety of services, you'll need to prepare several copies of your documents to ensure that you meet their requirements.
2. Be on time
Being late and rushing is a bad habit to get into, especially if you're visiting another country. When visiting the embassy, you must arrive on time to prevent having your appointment canceled.  Some employees are stringent, which is why some Filipinos arrive one hour ahead of their scheduled appointment.
Also, if it's your first time visiting the embassy, set aside some time for you to explore the location, because as you know, travel and processing times may vary from one person to another. That said, do yourself a favour and give yourself some leeway when you do pursue a transaction at the embassy.
3. Research what you need to do before your visit
Because you're reading this guide, you're already on the right track!  Some people don't get into the habit of doing some research before performing anything important, such as passport renewal.
Thus, make sure to research about all the basic questions you may have. The first step might is to go to the embassy's official website. You can find there all the most recent information, updates, and announcements.
4. Consider the possibility of availing of multiple services on a single visit.
It's worth your time to go to the embassy and acquire various services at once. Check to see if you require more than simply a passport or visa renewal. Also, take a look at the services that are available.
More information about the embassy's services can be found on its official website. If you need to make an appointment, phone the office first before going to the embassy.
5. Locate a parking spot beforehand
If you plan to visit the embassy by car, be sure you know where the parking is. Parking is difficult to come by, especially in front of the embassy. Inquire with someone at the office about where you may park safely.
6. Wear the prescribed set of clothes.
Finally, you should be aware of the appropriate clothes for visiting the embassy. Keep in mind that you are visiting a government office rather than a mall, a park, or a beach. You must dress casually or smartly in order for the personnel to let you into the premises.
Summary
So now that you know everything there is to know about the Philippine Embassy in Manama, Bahrain, you will find it much easier to contact and even visit the embassy by appointment at your leisure. Simply prepare a list of all the services you require so that you can plan your visit effectively.
And if possible, schedule to perform several transactions in one visit. Moreover, if there are any areas of your employment or stay in Bahrain that is unclear or confusing to you, the embassy should be your first point of contact; they will very certainly be able to offer you advice, if not actually assist you in your position.
With all of the information provided in this guide, you can rest assured that you can get the much-needed help that you seek from the Philippine Embassy, only because you have everything you need prepared out before you seek their services. Just remember to take down their contact information from this guide.
READ NEXT: 3 Reasons Why OFWs Work in Bahrain
Contact Information
Address:  Villa No. 939, Road 3220, Block 332, Mahooz, Manama, Kingdom of Bahrain
Telephone Number: 1772-1234
E-mail: manama.pe@dfa.gov.ph
Website: https://manamape.dfa.gov.ph/
Facebook Page: https://www.facebook.com/PHLinBahrain/
Google Map Location
Here is a map guide to the location of the Manama PH Embassy Bahrain for your reference: