Illegal drug activities carry severe punishment not only in the Philippines, but in many other parts of the world. And so, the Philippine Embassy in Bahrain has warned all Filipino nationals in the Kingdom against involving in any kind of illegal drug activity.
ALSO READ: Basic Guide to Laws and Regulations in Bahrain
Last Thursday, November 14, the Embassy issued Public Advisory No. AAV-09-2019 through its official Facebook page. The advisory cautions Filipinos against participating or getting involved in the production, distribution, sale, and/or use of illegal drugs.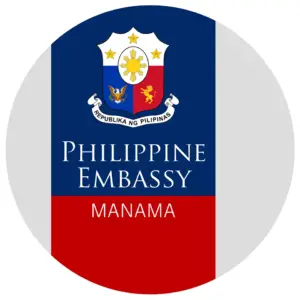 "Such Activities is Illegal & Carries Severe Punishment" – PH Embassy
Through the advisory, the Philippine Embassy reminded all Filipinos to respect the law of their host country, the Kingdom of Bahrain. As representatives of the Philippines, they are called to be responsible, respectful, and law-abiding people of the community.
Notably, the warning goes in line with the directives of Philippine President Rodrigo Roa Duterte, who, from the very start of his campaign, has declared "war" against illegal drugs.
In relation to President Duterte's strong opposition against drug traffickers and drug users, the Embassy pointed out that Filipinos who get convicted of illegal drug activities in Bahrain may only be given limited assistance by the Philippine Government.
Check out the full text of the advisory below: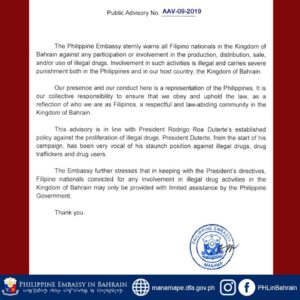 ALSO READ: Embassy Urges Filipinos to Report Cases of Human Trafficking
The fight against drugs applies not only to those in the Philippines, but to Pinoys all over the world. As Filipinos, it is our duty to respect the laws of our host countries, including laws against illegal drugs. We should also be aware of the do's and don'ts here in the Kingdom Bahrain.