On Friday, April 30, online applications for national IDs were made available, with the aim of enrolling 70 million Filipinos in the Philippine Identification System (PhilSys) by the end of 2021.
READ ALSO: How to Renew Philippine Passport in Bahrain
President Rodrigo Duterte signed Republic Act No. 11055, also known as the "Philippine Identification System Act," on August 6, 2018, with the aim of providing direct proof of identity to Filipino citizens and resident aliens in the Philippines.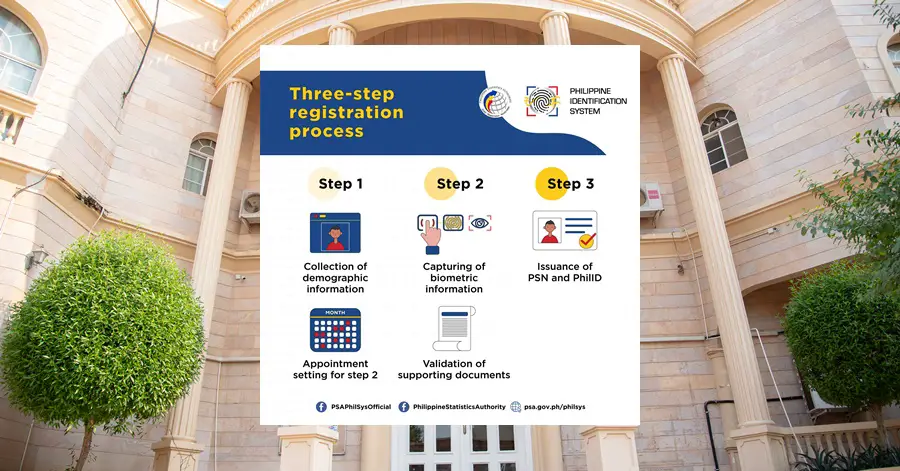 Here Are 3 Steps to Apply for a Philippine National ID
Following the program's October 2020 launch, the Philippine Statistics Authority (PSA) announced that 25.7 million Filipinos had already registered via house-to-house demographic data collection.
In accordance with this, the PSA developed an online system that will enable registrants to complete their registration and schedule an appointment via an online portal.
If you want to apply for a national ID, here is a simple three-step process:
STEP 1: Provide demographic details and schedule a time for Step 2. This can be done online at the PhilSys web portal, https://register.philsys.gov.ph.
The system will collect your name, gender, date of birth, place of birth, blood type, address, and optional information such as marital status, mobile number, and email address.
STEP 2: At the registration centre, you must include your demographic information as well as your biometric data (fingerprint, iris scan, and front-facing photograph). This move should take about 15 minutes on average.
IMPORTANT: Bring your transaction number and any supporting documents with you! The documents required are listed below.
STEP 3: Getting a PhilSys Number (PSN) and a PhilID
The PSA partnered with PHLPost to deliver your PhilID to your home address. After obtaining your PHILID, do not upload or share it on social media because it contains sensitive information.
What are the requirements/documents required to apply for a national ID?
The registrant must bring an original copy of any of the following primary documents:
A PSA-issued Certificate of Live Birth AND one (1) government-issued identification card with your full name, a front-facing photograph, and your signature or thumb mark.
Philippine Passport or ePassport issued by the Department of Foreign Affairs (DFA);
Unified Multipurpose Identification Card (UMID) is issued by SSS or GSIS;
Student License Permit or Non-Professional/Professional Driver's License issued by the Land Transportation Office (LTO).
If the registrant does not have any of the above documents, he or she can carry an original copy of any of the secondary documents listed below:
PSA-issued Certificate of Live Birth/NSO-issued Certificate of Live Birth with Birth Reference Number (BreN)
LCRO-issued Certificate of Live Birth
PSA-issued Report of Birth
PSA-issued Certificate of Foundling
Integrated Bar of the Philippines (IBP) Identification Card
Professional Regulatory Commission (PRC) ID
Seaman's Book
Overseas Workers Welfare Administration (OWWA) ID
Senior Citizen's ID
SSS ID
Pantawid Pamilyang Pilipino Program (4Ps) ID
License to Own or Possess Firearms (LTOPF) ID
NBI Clearance
Police Clearance/ID
Solo Parent's ID
PWD ID
Voter's ID
Postal ID
Taxpayer Identification Number (TIN) ID
Philhealth ID
Philippine Retirement Authority (PRA)-issued Special Resident Retiree's Visa (SRRV)
National ID from other countries
Residence ID from other countries
Secondary supporting documents with a front-facing image, signature/thumbmark, full name, permanent address, and date of birth will be recognized as secondary supporting documents.
Employee ID
School ID
Barangay Clearance/Certificate
Barangay ID
City/Municipal ID
Frequently Asked Questions (FAQs)
Is it mandatory to apply for a national identification card?
According to the law, national ID registration is optional. Citizens are strongly encouraged to register because the PhilSys will be used for government service issuance and delivery.
What is the legal age to apply for a national ID?
People of all ages, including newborns, can register with Philsys.
Children under the age of five (5) will be asked for only demographic details and a front-facing snapshot, and their PSN will be linked to their parent or legal guardian. Their demographic and complete biometric information will be obtained during registration, but they will need to update their information and have their biometrics taken again once they reach the age of fifteen (15).
How can OFWs obtain a national ID?
The PSA has announced that by 2021, it will develop a registration strategy for our Overseas Filipinos in collaboration with the Department of Foreign Affairs (DFA). In 2022, the PSA plans to begin the registration process for our OFWs.
If you have further questions and concerns regarding this process, you may send your queries via info@philsys.gov.ph or call 1388 (fees may apply).
READ NEXT: Services Offered by Bahrain Philippine Embassy and Overseas Labor Office