The Bahrain Development Bank or BDB was established in the year 1991 and started its operation on January 20, 1992. They focus on finance and development of small to medium businesses. Additionally, they encourage and support activities relating to entrepreneurship in Bahrain.
Also Read: List of United Bank Limited Branches and ATMs in Bahrain
This bank promotes entrepreneurship & innovation in the Kingdom of Bahrain. BDBEnsure that professionals, women & youth that have business ambitions are given financial support and advisory services.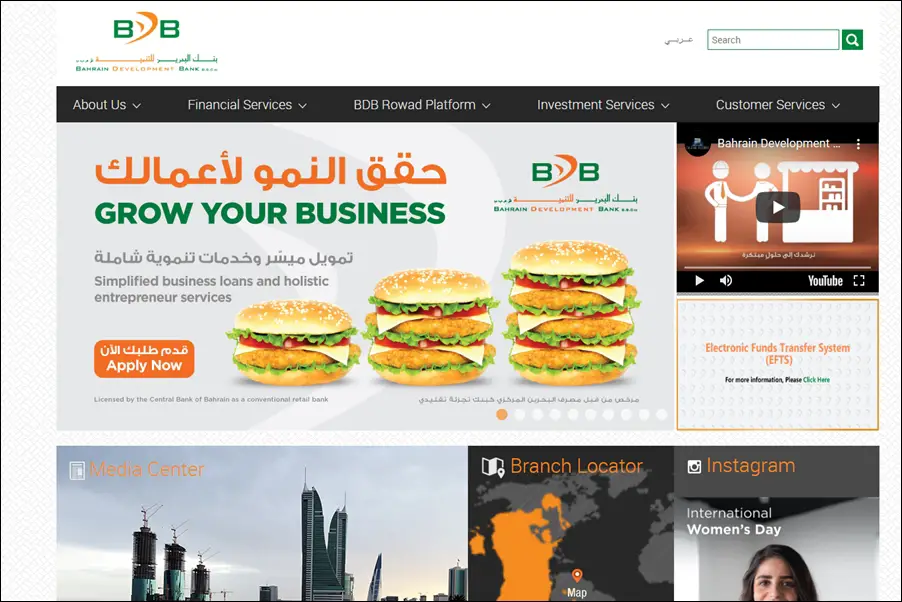 Bahrain Development Bank Branch and ATMs in Bahrain
Bank in Manama, Bahrain
Address: Building 170, Road 1703, Block 317, Diplomatic Area, Bahrain
Phone: +973 1751 1111
Sunday – Wednesday: 8:00 am to 3:00 pm,
Thursday: 8:00 am to 2:30 pm
Bank in Al Hidd, Bahrain
Address: Al Hidd, Bahrain
Phone: +973 1718 1818
Sunday – Wednesday: 8:00 am to 3:00 pm,
Thursday: 8:00 am to 2:30 pm
Bank in A'ali, Bahrain
Located in: GB Cafe a cafe by Green Bar
Address: Rd No 3212, A'ali, Bahrain
Phone: +973 1751 1111
Sunday – Wednesday: 8:00 am to 3:00 pm,
Thursday: 8:00 am to 2:30 pm
Bank in Sitra, Bahrain
Located in: Sitra mall
Address: Shaikh Jaber A. Al Subah Hwy, Sitra, Bahrain
Phone: +973 1712 0000
Sunday – Wednesday: 8:00 am to 3:00 pm,
Thursday: 8:00am to 2:30 pm