The Eskan Bank or EB was established in the year 1979 here in Bahrain. They offer subsidized mortgages for citizens who have low-to-middle income in the Kingdom of Bahrain. This bank is involved in community-related property activities.
Also Read: List of Arab Bank Branches and ATMs in Bahrain
In modern times, this bank commits more to the social housing agenda. They focus on optimizing the Government's resources while venturing to wiser business models and meet the housing needs of their clients to improve their living.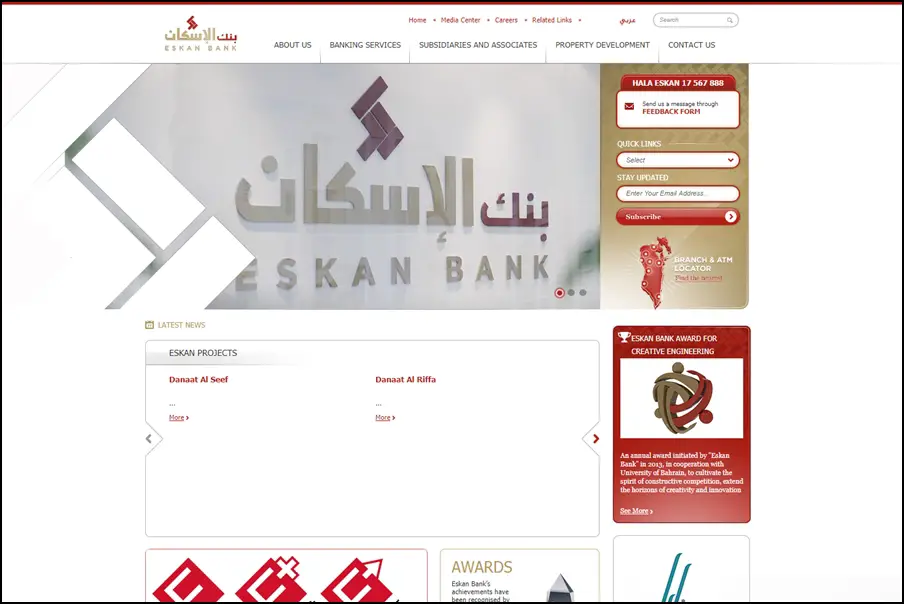 Eskan Bank Branch and ATMs in Bahrain
Khalid AbdulMalik
Main Branch Manager
Seef Districts, Almoayyed Tower
PO Box 5370, Seef Area, Kingdom of Bahrain
Tel: (+973) 17 567890
Fax: (+973) 17 564 114
Email: inquiries@eskanbank.com
Sunday to Wednesday: 7:30 am – 2:30 pm
Thursday: 7:30 am – 2:00 pm
Merfat Al Thawadi
Branch Manager
Ministry of Housing Building – Ground Floor
Tel: (+973) 17531749, 17531824,17531862, 17531805
Fax: (+973) 17531875
Sunday – Wednesday: From 7:00 am – 2:15 pm
Thursday: 7:00 am – 2:00 pm
Isa Towm
Tel: (+973) 17878600 , 17878603, 17878604 , 17878605
Fax: (+973) 17878619
Sunday – Wednesday: 7:30 0 2:30 pm
Saturday: 7:30 – 1:30 pm