Not long after the country reported its first death due to the novel coronavirus or COVID-19, Bahrain has begun imposing stricter measures to help monitor and prevent its spread.
On Tuesday, 17th March, His Royal Highness Prince Salman bin Hamad Al Khalifa, the Crown Prince, Deputy Supreme Commander, and First Deputy Prime Minister, chaired a meeting of the Government Executive Committee, as part of the country's efforts to combat the spread of COVID-19, under the leadership of His Majesty King Hamad.
Bahrain Imposes Strict Measures to Combat COVID-19
During the meeting, HRH the Crown Prince praised the efforts of all citizens, residents, and visitors, Bahrain News Agency (BNA) reported. He talked about the importance of national responsibility in fighting against COVID-19, which does not discriminate between anyone.
"Citizens who actively follow precautionary measures are the Kingdom's greatest ally against Coronavirus (COVID-19)," HRH Prince Salman declared.
Based on a report submitted by the National medical Task Force to Combat the Coronavirus, led by His Excellency Lieutenant-General Dr. Shaikh Mohammed bin Abdullah Al Khalifa, Chairman of the Supreme Council of Health, the following measures were announced, effective from Wednesday, 18th March 2020:
All public and private entities will continue to operate, although remote working (work from home) is encouraged when possible.
Retail stores, grocery stores, and shopping complexes will operate within normal hours, while practicing social distancing as recommended by the Ministry of Health.
The operation of all restaurants, tourist facilities, and places for serving food and beverages will be limited to external orders (take out) and deliveries only.
All movie theatres will be closed.
All commercial sports gymnasiums, fitness centres, swimming pools, and recreational facilities will be closed.
The operation of shisha cafes will be limited to take out and delivery of food and beverages only.
The first hour of grocery store openings will be allocated for the elderly and pregnant women only, to reduce interactions.
Public gatherings will be limited to 20 people or less, while everyone is urged to stay home as much as possible and go out when necessary only.
All citizens and residents are urged to avoid non-essential travel outside the country.
All incoming passengers will be tested and obliged to undergo a 14-day self-quarantine.
Classes in public schools, private schools, kindergartens, and higher education institutions will be suspended until further notice. Administrative and educational professionals will continue to work, but are encouraged to work from home when possible.
Here is an infographic about the measures, as shared on the official website of HRH the Crown Prince: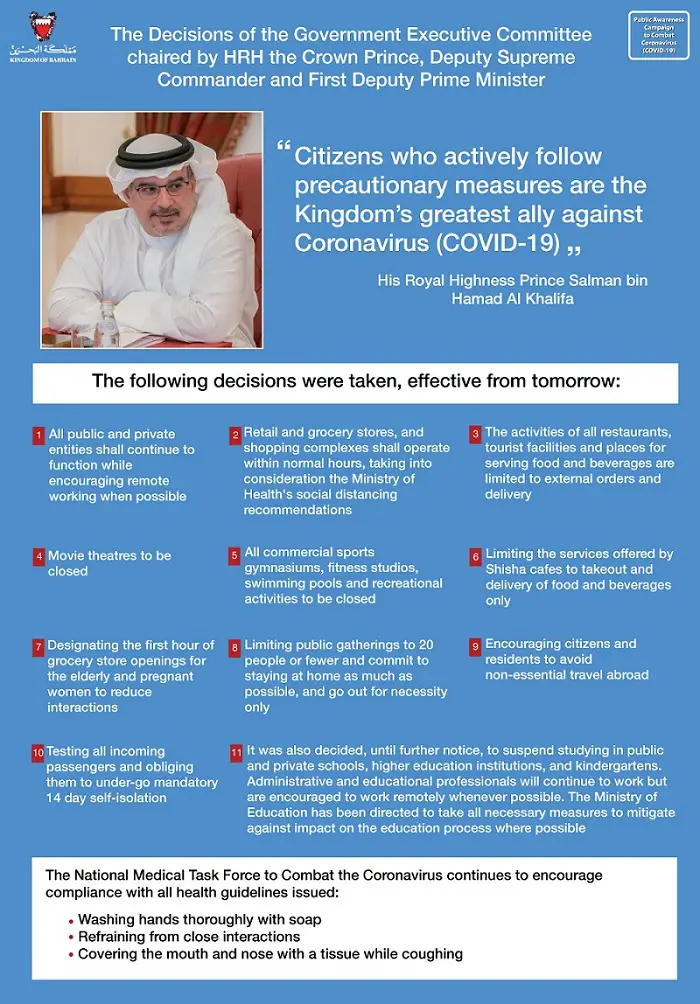 In addition, the National Medical Task Force to Combat the Coronavirus urges everyone to follow all health guidelines, including:
Washing your hands thoroughly with soap;
Refraining from close interactions; and
Covering your mouth and nose with a tissue while coughing.
Moreover, the Government Executive committee reiterated that these precautionary measures have been imposed to protect the well-being of all citizens and residents of Bahrain.
As the novel coronavirus continues to pose a threat not only to Bahrain, but to countries around the world, let us follow all of the measures issued by government authorities — keeping in mind that these are imposed for our own safety and well-being. In the meantime, here are five ways to prevent the spread of COVID-19, for your reference.