At the end of a long day at work, wouldn't it be nice to just go home and relax? Your clothes have already been washed and folded, your room squeaky clean, and your dinner ready to be served? With the help of a maid, you wouldn't have to worry about household chores!
When you find yourself needing an extra hand, then you should consider getting a maid. You can hire a part-time cleaner who comes and goes, or you can opt to have a full-time housemaid. If you choose the latter, then you may want to sponsor a housemaid while living in Bahrain.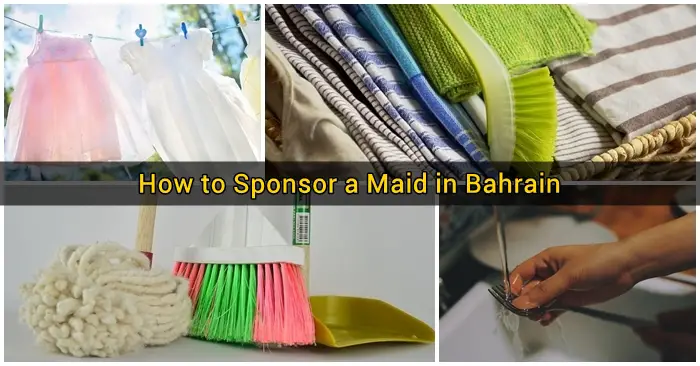 Guide to Sponsoring a Maid in Bahrain
You can hire a maid through an agency, which will provide information about prospective housemaids. On the other hand, you can also hire a maid who is already living in Bahrain — one who has just finished her contract and is looking for a new employer. Either way, it's important to check her background and if possible, to interview her yourself.
Qualifications / Criteria for Sponsoring a Maid
Once you decide to sponsor a maid, you will need to apply for her housemaid visa. You can do this as long as you:
Are married
Have at least 2 kids (below 15 years old)
Have a minimum salary of BD 1000 per month
Typically, a two-year housemaid visa costs about BD 150 per year. Aside from this, you will need to shoulder documentation, insurance, and other costs.
Procedure and Requirements
The first thing that you need to secure upon hiring a maid will be the No Objection Certificate (NOC). This will allow your maid to stay in Bahrain for up to four weeks. During this period, she will be required to undergo medical exams, including blood texts, X-rays, vision tests, and others. Once she is declared physically fit for work, you can apply for her residency permit.
For the attestation of the employment contract of your housemaid, the following requirements should be met:
Housemaid should be at least 30 years old
CPR copy of the employer
Passport copy of the employer
Passport copy of the employee
No Objection Certificate (NOC)
Agreement Application Form can be retrieved from the embassy
Work permit from the Labour Ministry (under the name of the employer)
Employer's bank statement for the last 3 months with salary slips attached (should be a minimum of BD 1000 per month)
Bank Guarantee Certificate of USD 2500 from any national bank in the country. This will be returned to the employer once the maid finishes her contract in Bahrain.
In addition to these requirements, you should also be able to provide your housemaid with a mobile phone and a SIM card.
Additional Reminders
Before hiring a maid, keep in mind the following tips and suggestions:
Have a clear idea of what you require in a housemaid. This way, you can select the best possible candidate.
Ask for recommendations from colleagues and friends who are looking for new sponsors for their housemaids.
Explain and discuss all the details of the job contract with your housemaid.
Set clear expectations, so that you and your maid will have a harmonious relationship.
Give your housemaid your office address and telephone numbers, in case of emergencies.
Address issues of theft and dishonesty promptly and accordingly.
Hiring domestic help in Bahrain is not that difficult, as long as you (and your prospective maid) are able to meet the requirements. More importantly, you should always strive to maintain a positive, honest, and direct communication between you and your housemaid.