A video allegedly showing a housemaid placed in a car's open trunk while holding on to a large box to keep it from falling has caught the attention of netizens after it made rounds on social media last week.
ALSO READ: 3 Reasons Why OFWs Work in Bahrain
The video drew flak from netizens criticizing the employer for their negligence for seemingly prioritizing the contents of the box over their housemaid's safety.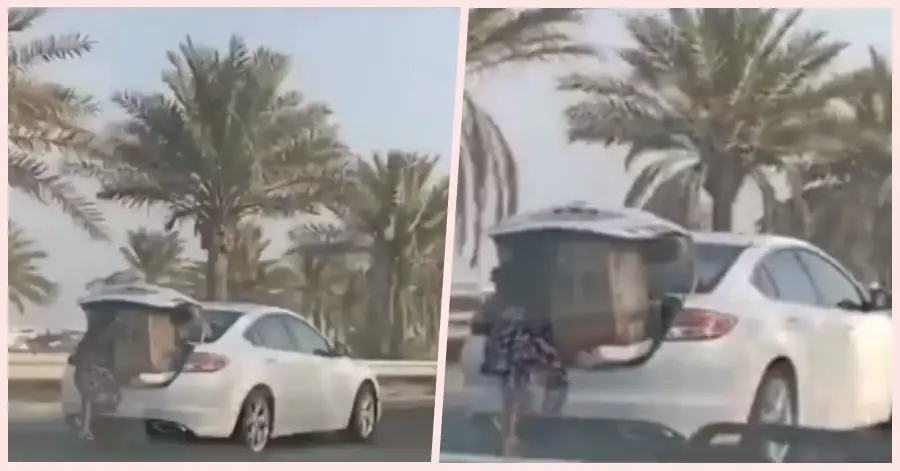 [WATCH] Housemaid in Bahrain Placed in Car Trunk to Prevent Employer's Box from Falling
Netizens claimed that the video was taken from Bahrain, and was later on confirmed when Bahrain's Daily Tribune made a news report of the incident.
Meanwhile, the General Directorate of Traffic in Bahrain responded to the video on social media stating that traffic authorities took legal action against the 20-year-old female driver.
For endangering her housemaid's life through negligent driving, the female employer will be sent for prosecution.
Catch the video footage of the housemaid placed in the car's open trunk while holding on to a huge box as the car speeds through the highway:
https://www.facebook.com/watch/?v=3159672720811888&extid=4yrGYbWPgEazphOT
If an employer requests something from their employees such as a housemaid or any domestic worker, it is their responsibility to see to it that their employees are not put at risk for any accident or injury as they will be held accountable under the law.
Under Bahrain's Labor Law 36, which aims to protect the rights of workers, harsher penalties on employers risking employees' health and safety will be imposed.
Moreover, employers who violate the provisions of the labor law will be subject to a fine between BD 200 to BD 500. Moreover, those who do not meet health and safety standards can be jailed up to three months or will face fines of BD 500 to BD 1,000. In the case of repeat offenders, the punishment is doubled.
Meanwhile, employees, especially foreign domestic helpers must be aware of their rights as employees wherever they may be assigned to work.
ALSO READ: How Much is the Salary of an OFW vs. Cost of Living in Bahrain?