The Kingdom of Bahrain has been hailed as the world's most popular destination for expats. Millions of foreign workers have jobs in Bahrain, and many of them have brought their families as well. Hence, there is quite a number of international schools where their children are enrolled in.
There are plenty of international schools in Bahrain; in fact, some of them have been operating here for decades. These institutions follow different curricula, each with its own approach to educating young minds. This article presents some of the most popular schools in the Kingdom.

International Schools in the Kingdom of Bahrain
Here are some of the international schools in Bahrain. Notably, all of them are co-educational (i.e. caters to boys and girls), with curricula from pre-school to secondary school:
Abdul Rahman Kanoo International School
There are currently more than 2200 students enrolled at Abdul Rahman Kanoo International School (ARKIS), a co-educational and bilingual school. Remarkably, it is the first school in the Kingdom to receive joint accreditation from New England Association of Schools & Colleges (NEASC) and Council of International School (CIS).
Curriculum: International General Certificate of Secondary Education (IGCSE) & International Baccalaureate (IB)
Ages: 2 to 18 years old
Website: http://kanooschool.edu.bh/site/
AMA International School
The AMA Educational System, which is based in the Philippines, paved the way for establishing AMA International School in Bahrain. Since September 2004, it has been educating young minds ages 3 to 18. The school is recognised by the Ministry of Education, Kingdom of Bahrain.
Curriculum: American
Ages: 3 to 18 years old
Website: http://www.amais.edu.bh/
Al Noor International School
Al Noor International School was established on 6th September 1993. At present, it offers the following curricula: Bahraini Curriculum, based based on programme adopted by the Ministry of Education; British Curriculum (leading to IGCSE, Advanced Subsidiary "AS" Level, and Advanced "A" Levels); and Central Board of Secondary Education (CBSE) Curriculum, which is one of the finest educational systems in India.
Curriculum: Bahraini, British, & Indian
Ages: 3 to 18 years old
Website: http://www.alnischool.com/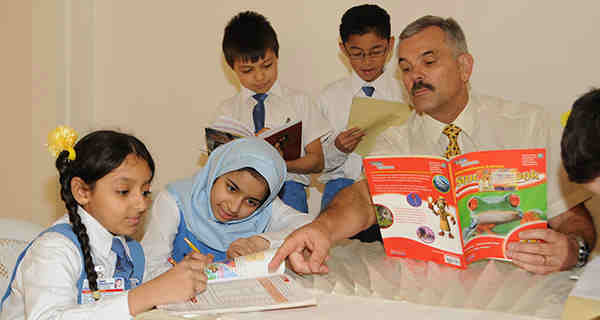 Bahrain School
Bahrain School is part of a much wider group, the U.S. Department of Defense Education Activity (DoDEA), which operates 166 schools in seven states, Guam, Puerto Rico, and 11 countries worldwide. According to its website, the Bahrain School community aims to "empower all students to achieve their maximum potential through rigorous standards-based instruction in an environment that respects diverse cultures."
Curriculum: American & IB
Ages: 3 to 18 years old
Website: http://www.dodea.edu/BahrainEHS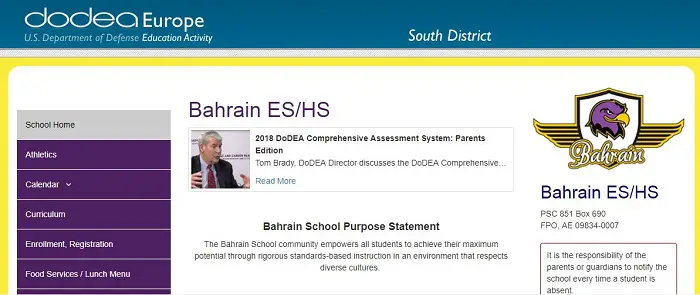 British School of Bahrain
The British School of Bahrain was founded in 1990, with Mrs. Julie Anne Gilbert as the Head of School. If follows the English National Curriculum, though it has been adopted to the local context. "Our mission is to provide all our students with a high quality education and skills that will equip them to thrive in their future lives," the school website states.
Curriculum: British
Ages: 3 to 18 years old
Website: http://www.britishschoolbahrain.com/
Naseem International School
In January 1982, Mrs. Sameera Abdul Jabbar Al Kooheji established Naseem International School to address a demand for a "world's best practice bilingual school" that would cater to Bahraini and other Arabic children. The school's mission statement, according to their website, is "to develop inquiring, knowledgeable and caring young people who help to create a better and more peaceful world through intercultural understanding and respect."
Curriculum: IB
Ages: 3 to 18 years old
Website: http://www.nisbah.com/
Sacred Heart School
The Vicar Apostolic of Arabia established the Sacred Heart School in the 1940s. For more than 65 years, it has provided excellent, multinational education to young people in Bahrain. The school's website states that they aim to instill the following core values in their students: academic excellence, ethical behaviour, and character formation.
Curriculum: IGCSE
Ages: 4 to 18 years old
Website: http://www.shsbahrain.com/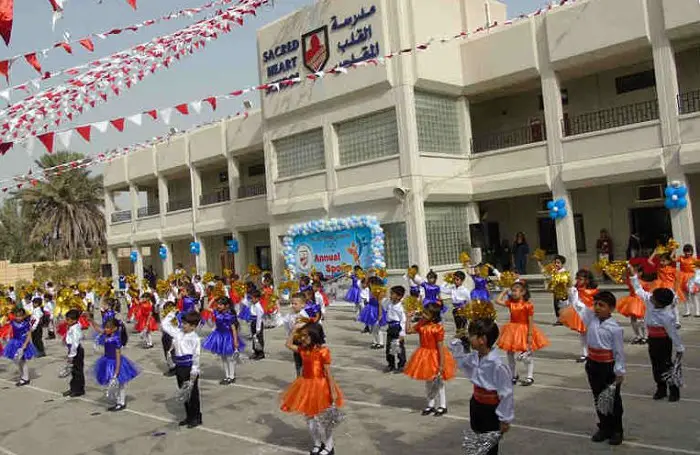 St. Christopher's School
St. Christopher's School began in 1961 as a school for small groups of expat children. Back then, classes were held in private villas. Today, it has become an impressive, international school with more than 2,300 students from around 70 countries.
Curriculum: British, IB, & A Levels
Ages: 3 to 18 years old
Website: http://www.st-chris.net/
If you are planning to bring your family to Bahrain, these are some of the schools that you can choose from. Of course, the best time to do your research is now — before your family moves to the Kingdom. Meanwhile, here is a general guide to the laws and regulations in Bahrain.