The Ahli United Bank or AUB in Bahrain is a regional bank. It is one of the top banks in Bahrain. The head office is located in Manama and is the largest bank in this country.
Also Read: List of Al Baraka Bank Branches and ATMs in Bahrain
This bank was established in May 2000 from a merger between Al Ahli Commercial Bank and The United Bank of Kuwait. The Central Bank of Bahrain also licensed AUB under a retail banking license.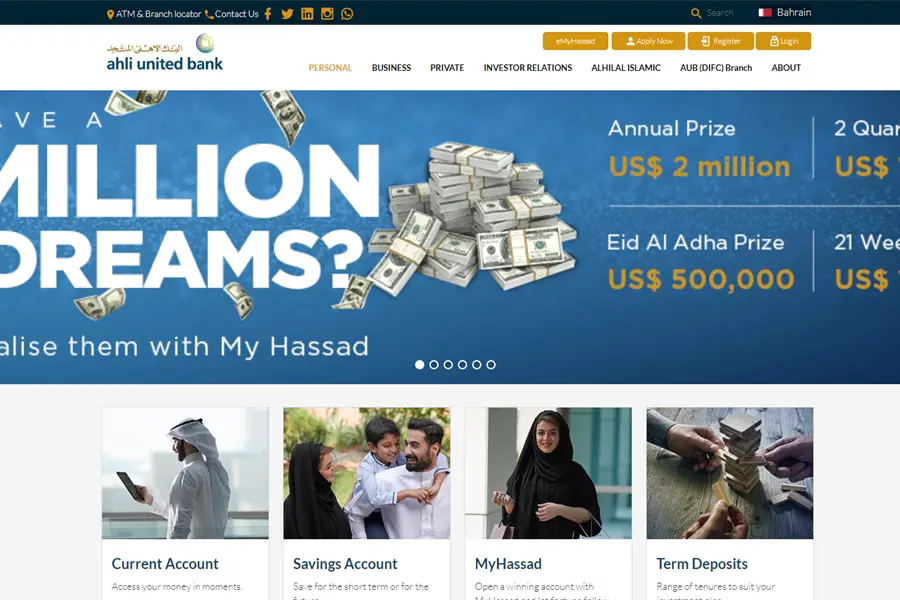 Ahli United Bank Branch and ATMs in Bahrain
Below is the list of Ahli United Bank Branches found in Bahrain, including their address location. So it will be easier for you to check if the branch is in your area, please do a "CTRL+F" search on your keyboard and type the bank name or location.
Hamad Town (RA22)
(Al Hilal Islamic Banking Services)
Location: Shops No. 479, 479A, 479B
Dar Kulaib Avenue – Dar Kulaib 1046
Tel: (973) 17443765,
Tel: (973) 17440175
Fax: (973) 17443761
SAT to WED 08:00 AM to 03:30 PM
Tubli
(Al Hilal Islamic Banking Services)
Location: Shop Number 91B, Road 13, Block 711, Tubli
Tel: (973) 17141169,
Tel: (973) 17141190
Fax: (973) 17141196
SUN to THURS 08:00 AM to 03:30 PM
Bokuwara
(Al Hilal Islamic Banking Services)
Location: Shop No. 1001 & 1001/a, Bukowara Road No. 1315, East Riffa 913
Tel: (973) 17490727
Fax: (973) 17490656
SUN to THURS 08:00 AM to 03:30 PM
Sanad
(Al Hilal Islamic Banking Services)
Location: Shops No. 2417 & 2417A, Estiqilal Highway, Nuwaidrat 646
Tel: (973) 17625979
Fax: (973) 17623923
SUN to THURS 08:00 AM to 03:30 PM
Arad
Location: (Al Hilal Islamic Banking Services) Arad Mohd Center, Shop #3,
Road 44,Block 243
Tel: (973) 17673107
Fax: (973) 17465205
SUN to THURS 08:00 AM to 03:30 PM
SIO
Location: Flat 1 Building 1565 Road 1722 Block 317 Diplomatic Area
SUN to THURS 7:30AM to 01:30PM
Seef HQ
Location: Bldg 2495, Road 2832 Al Seef District 428
PB: (973) 17585514/39
Fax: (973) 17580586
SUN to THURS 08:00 AM to 03:30 PM
Budaiya
Location: Shop No. A1321, Road 5043, Al Maqshaa, Block 450
Tel: (973) 17594696
Fax: (973) 17594503
SUN to THURS 08:00 AM to 03:30 PM
Zinj
Location: Manama Plaza, Shop No. 65B, 59, Al Qadsiya Avenue, Manama 332
Tel: (973) 17740022,
Tel: (973) 17740100
Fax: (973) 17740100
SUN to THURS 08:00 AM to 03:30 PM
Exhibition Avenue
Location: Shop 68, Exbn, Bldng No. 393, Rd No. 1805, Area 318
Tel: (973) 17533670
Fax: (973) 17536142
SAT to WED 08:00 AM to 03:30 PM
Seef Mall
Location: Bldng 2102, Rd 2825, Block 425, Unit 1025
Tel: (973) 17684470
Fax: (973) 17689591
SUN to THURS 08:00 AM to 03:30 PM
Isa Town
Location: Shop 163, Bldng 2131, Rd 2156, Jidali 721
Tel: (973) 17685188
Fax: (973) 17780753
SAT to WED 08:00 AM to 03:30 PM
Hamad Town
Location: Shop 253 & 237 Rd 305 Block 1203 Hamad Town, Souq Waqif
Tel: (973) 17415242
Fax: (973) 17413415″
SUN to THURS 08:00 AM to 03:30 PM
Sitra
Location: Shop 128, Al Matrook Showroom, Rd 10 Al Kharijiya, Sitra 606
Tel: (973) 17736783
Fax: (973) 17736401″
SUN to THURS 08:00 AM to 03:30 PM
Muharraq
Location: Shop 14, Bldng 1197, Muhq Rd 1535 Muharraq 215
Tel: (973) 17341202
Fax: (973) 17340213
SUN to THURS 08:00 AM to 03:30 PM
Riffa
Shops 122, 124, 126, 128
Sh Ali bin Khalifa Rd"
Tel: (973) 17562722
Fax: (973) 17776012″
SUN to THURS 08:00 AM to 03:30 PM
Adliya
Location: Shops 1 & 2 Bldng 118B, Osama Bin Zaid Rd, Manama 327
Tel: (973) 17710559
Tel: (973) 17710210
Fax: (973) 17710180
SUN to THURS 08:00 AM to 03:30 PM
Gudaibiya
Location: Al Hadi Complex No. 243
Tel: (973) 17290440
Tel: (973) 17290255
Fax: (973) 17 297741
SUN to THURS 08:00 AM to 03:30 PM
Central Manama
Location: Car Park Bldng, 126 Government Avenue
Tel: (973) 17221700
Fax: (973) 17224322
SAT to THURS 08:00 AM to 02:00 PM
Seef Mall Muharraq
Location: Muharraq
Tel: (973) 17562720
Fax: (973) 17339297
SAT to THURS 11:30 AM 07:00 PM
Mercado Mall
Location: Janabiyah
Tel: (973) 17562749
SAT to THURS 11:30 AM 07:00 PM
Juffair Oasis Mall
Location: Juffair
Tel: (973) 17579353
SAT to THURS 11:30 AM 07:00 PM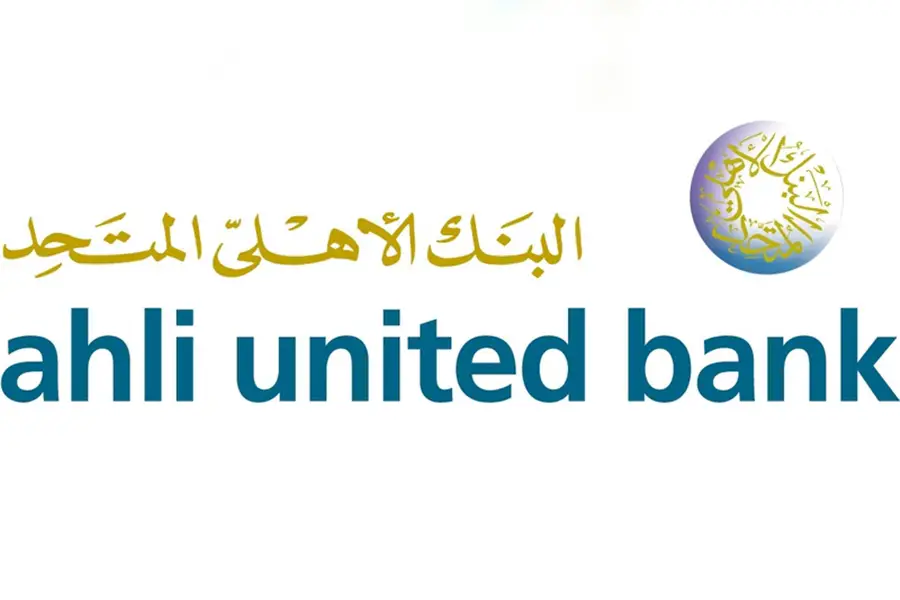 List of Ahli United ATMs Locations in Bahrain
Zallaq Springs
Building 23, Avenue No. 55, Block 1056, Al Zallaq
Hala Plaza
Building 423, Road 3009, Block 330, Hala Plaza
Al Khamis
Building 367, Road 328, Block 363, Bilad Al Qadeem
Bapco
Bapco Office Nowidrat
A'Ali
Ramli mall – Bldg. 1723, RD 4041, A'Ali 740
Tubli
Commercial Road (Universal BLG) – Shop P109, BLG 1581, RD 11, Tubli 711
Jidhafs
Al Halay Supermarket (Jidhafs) – Bldg. 954, RD 80, Jidhafs 422
Arad
Commercial Road – Shop No 44, Road 29, Arad 240
Zinj / Abughazala
Lulu Hypermarket Galleria Mall – Bldg 134, Road 20, Al Bughazala 331
RCSI Building Bussaiteen – Muharraq
Royal College of Surgeons In Ireland (RCSI) – Muharraq
Budaiya
Ruyan Commercial Center – Budg 2043, Road 85 Block 537 Bani Jamrah
LMRA
LMRA Building at Sanabis
Bahrain Airport
Bahrain International Airport
VIVA Building
VIVA Tower 15, Road 68, Seef District 428
GPIC
Bldg: 51, Road: 1401, Block: 614, Um Al-Baidh
Royal Golf Club (Riffa Views)
Building No. 1513, Road No. 4325, East Riffa 943
Bahrain City Centre (ATM1)
Ground Floor, Opposite of Carrefour
Busaiteen Club / Al Jazeera Cinema
176, Avenue 20, Busaiteen 223
Budaiya 2 (Drive Through)
Blng 1285, Road 5043, Al Maqsha 450
Hamala
BDF Military Camp, Blng 2111, Wali Al Ahd Highway, Hamala 1014
Hamad Town (Al Nuzha ATM)
Bapco Al Nuzha Petrol Station, Hamad Town, Roundabout 22
Sitra Mall (STML)
Sh. Jaber Al Subah Highway, Bldng No. 574, Al Hamriya 611, Sitra
IKEA
Building 227 Avenue 13 Tubli 701
Juffair 340
Juffair (MURJ) – Al Murjan Center, Al Shabab Avenue
East Riffa
Esteqlal Pt. St (ESTQ) – Petrol Station 93, Road 4103, East Riffa 941
Juffair
Mega Mart (Juffair) – Al Shabab Rd, Shop No. 264, Block 341
Hoora
Al Muntazah Supermarket, behind Exhibition Rd Police Station
Ansar Gallery
Shop Number 156 Waliahd Highway, Salmabad 712
BFC Salamaniya
Building 427 Lulu Avenue – Salmaniya 311