Holders of Philippine passports can travel to about 27 countries without requiring a visa. Some other countries may need a visa upon arrival. Below we have listed information of countries where Filipinos can travel and not worry too much about entry visas because either it's visa free or the minimum requirement is that we get a visa on arrival. So for those of you wish to travel, these countries might be something you can consider.
Related Post: How to Renew Philippine Passport in Bahrain
Southeast Asian countries like Singapore, Thailand, Malaysia, Hong Kong, etc. enable Pinoys to enter with a 30 day tourist visa (for tourism purposes), but there are also other countries like Brazil and Morocco, each offering 90 days as a tourist. You can find more countries and their respective number of days allowed as a tourist in the list below.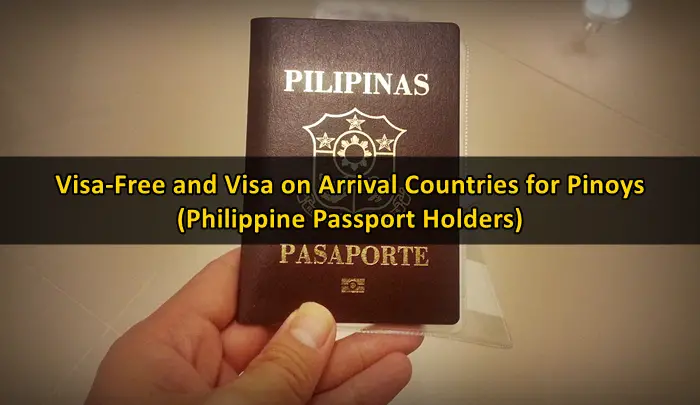 Countries Where Filipinos Can Travel (Visa-Free and Visa on Arrival)
Pinoys can travel to the following countries either by getting a visa upon arrival or by simply travelling without the need for a visa as we are exempted.
Visa-Free Countries for Filipinos  (Philippine Passport Holders)
The countries listed below will automatically give Filipinos a tourist pass with an allotted maximum number of days to stay within that territory.
Country
Duration
Bolivia
90 days
Brazil
90 days
Brunei
14 days
Cambodia
21 days
Colombia
90 days, another 90 days can be extended
Costa Rica
30 days; can be extended to a total of 90 days
Dominica
21 days
Ecuador
90 days
Fiji
4 months
Gambia
90 days: Entry clearance must be obtained from the Gambian Immigration before travel
Haiti
3 months
Hong Kong
14 days
Indonesia
30 days
Israel
3 months
Laos
30 days
Malaysia
30 days
Micronesia
30 days
Mongolia
21 days
Morocco
Myanmar
14 days
Peru
183 days
Saint Vincent and the Grenadines
1 month
Singapore
30 days
Suriname
90 days
Thailand
30 days
Vanuatu
30 days
Vietnam
21 days

 
Countries that Offer Visa on Arrival for Filipinos (Philippine Passport Holders)
Below are the countries that will require minimum documents and let you travel for a certain time period as a tourist.
Country
Duration
Armenia
120 days
Burundi
30 days – can be processed at Bujumbura International Airport
Cape Verde
Comoros
Djibouti
Guinea-Bissau
90 days
India
30 days (update: we have to apply for eVisa prior to arrival)
Kenya
3 months
Kyrgyzstan
1 month
Madagascar
90 days
Maldives
30 days
Mali
Marshall Island
90 days
Mauritania
Mozambique
30 days
Nepal
90 days
Nicaragua
90 days
Palau
30 days
Papua New Guinea
60 days
Saint Lucia
6 weeks
Samoa
60 days (Entry Permit on arrival)
Seychelles
1 month
Somalia
30 days – invitation letter should be submitted to the Airport Immigration Department at least 2 days before arrival. Invitation letter is issued by the sponsor.
Sri Lanka
30 days  (Electronic Travel Authorization)
Tajikistan
45 days
Tanzania
Timor-Leste
30 days
Togo
7 days
Tuvalu
1 month
Uganda
Zambia
90 days
OTHER SPECIAL CASES
Country
China
 May travel to Hong Kong, Macau and Hainan without visa
Iran
Pre-approved visa obtainable at the airport
South Korea
May travel to Jeju Island for 30 days without visa
Rwanda
Visa is processed online
Saint Kitts and Nevis
Visa is processed online
Sao Tome y Principe
Visa is processed online
Useful points to remember:
1. Most countries require passports to be valid for at least 6 months from date of travel with 1-2 blank pages;
2. Some countries allow entry without visa if a person is in possession of a valid visa for US, Canada or Schengen region;
3. Many African countries will require passengers to have current International Certificate of Vaccination upon arrival. Other countries may request specific vaccination if passenger is coming from certain infected area;
4. Acquiring passport stamp from Israel will prohibit entering certain countries due to Arab League boycott of Israel.