The Al Salam Bank was established on January 19, 2006. It is an Islamic Bank here in Bahrain. After a few months, this bank was listed in Bahrain Bourse and eventually on Dubai Financial Market on March 26, 2008.
Also Read: List of National Bank of Bahrain Branches and ATMs in Bahrain
The bank offers a wide range of financial products and services that is in compliance with Shari'a. It is "the way" of how Islam lives in their daily life.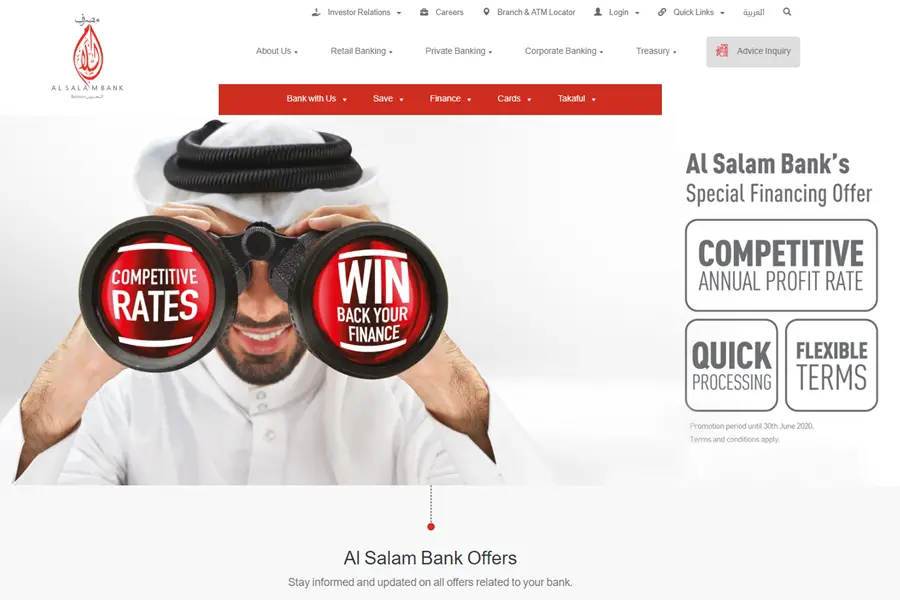 Al Salam Bank Branch and ATMs in Bahrain
Below is the list of Al Salam Bank found in Bahrain, including their address location. So it will be easier for you to check if the branch is in your area, please do a "CTRL+F" search on your keyboard and type the bank name or location.
Manama Branch
Location: Car Park Building, Al Furdah Avenue, Manama
Sunday, Monday, Tuesday, Wednesday, Thursday,
08:00 AM – 03:30 PM
Contact Info: Tel: +973 17 005500; Fax: +973 17 226641
Budaiya Branch
Location: Building 1297, Road: 5043, Block: 450, Al Maqsha, Budaiya
Monday, Wednesday, Saturday,
08:00 AM – 03:30 PM
Sunday, Tuesday
08:00 AM – 01:00 PM
03:30 PM – 05:30 PM
Contact Info: Tel: +973 17 005500; Fax: +973 17 226641
Exhibition Branch
Location: Block 320, Avenue 18, Building 1491, Exhibition Road
Monday, Wednesday, Saturday,
08:00 AM – 03:30 PM
Sunday, Tuesday
08:00 AM – 01:00 PM
03:30 PM – 05:30 PM
Contact Info: Tel: +973 17 005500; Fax: +973 17 226641
Isa Town
Location: Al Quds Avenue, Road 12, Building 3663, Block 809, Sharwa Building
Monday, Wednesday, Saturday,
08:00 AM – 03:30 PM
Sunday, Tuesday
08:00 AM – 01:00 PM
03:30 PM – 05:30 PM
Contact Info: Tel: +973 17 005500; Fax: +973 17 226641
Riffa Branch
Location: Bank 588, Road 1412, Riffa / AlShammali, Block 914, Riffa
Sunday, Tuesday, Thursday
08:00 AM – 03:30 PM
Monday, Wednesday
08:00 AM – 01:00 PM
03:30 PM – 05:30 PM
Contact Info: Tel: +973 17 005500; Fax: +973 17 226641
Muharraq Branch
Location: Building 582, Road 718, Block 207 (opposite Al Eslah Society)
Sunday, Tuesday, Thursday
08:00 AM – 03:30 PM
Monday, Wednesday
08:00 AM – 01:00 PM
03:30 PM – 05:30 PM
Contact Info: Tel: +973 17 005500; Fax: +973 17 226641
Salmabad Branch
Location: Building 828, Road 1213 Block 712, Salmabad
Monday, Wednesday, Saturday,
08:00 AM – 03:30 PM
Sunday, Tuesday
08:00 AM – 01:00 PM
03:30 PM – 05:30 PM
Contact Info: Tel: +973 17 005500; Fax: +973 17 226641
Seef District Branch (for Private Banking Customers)
Location: Block 436, Avenue 58, Building 22, MS Center Building, Seef District
Sunday, Monday, Tuesday, Wednesday
08:00 AM – 03:30 PM
Thursday
08:00 AM – 02:30 PM
Contact Info: Tel: +973 17 005500; Fax: +973 17 226641
Seef Mall Muharraq Branch
Location: Seef Mall Muharraq, Avenue 29, Arad, Muharraq Governorate, Bahrain
Sunday, Monday, Tuesday, Wednesday, Saturday
10:00 AM – 05:30 PM
Contact Info: Tel: +973 17 005500; Fax: +973 17 226641
Tubli Branch
Location: Road 13, Building 95, Block 711, Al Khadamat Service Avenue, Tubli
Sunday, Tuesday, Thursday
08:00 AM – 03:30 PM
Monday, Wednesday
08:00 AM – 01:00 PM
03:30 PM – 05:30 PM
Contact Info: Tel: +973 17 005500; Fax: +973 17 226641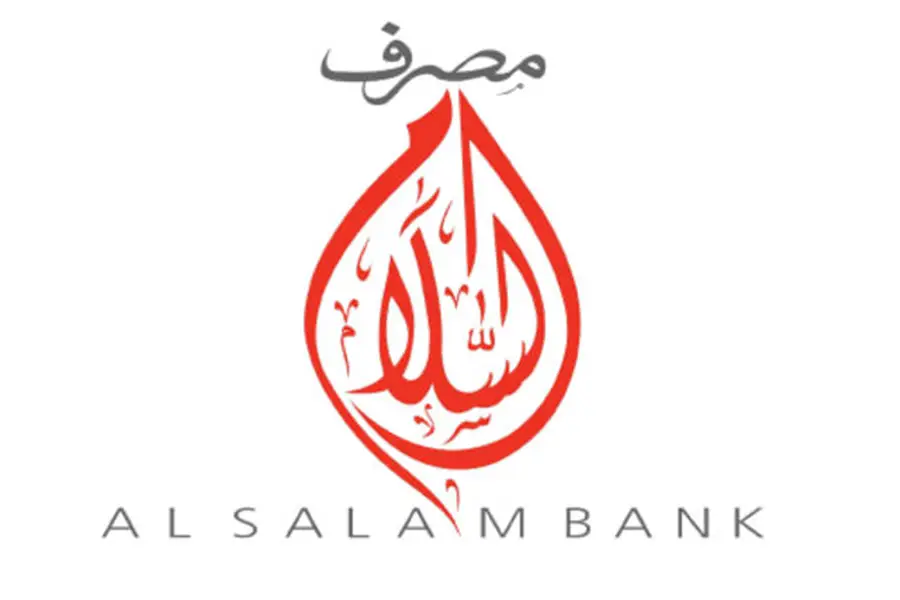 List of Al Salam Bank ATMs Locations in Bahrain
Al Nakheel Mall
Al Nakheel Mall ATM, Saar
Busaiteen
Busaiteen ATM, Busaiteen
Directorate of Traffic
Directorate of Traffic, Riffa
Four Seasons Hotel
Four Seasons Hotel ATM, Bahrain Bay
Isa Town (Bapco Fuel Station)
Four Seasons Hotel ATM, Bahrain Bay
King Hamad Hospital
Building 2435, Road 2835 Block 228, Busaiteen
Moda Mall
King Faisal Highway, Manama
Reef Mall
Reef Mall site Building 3478, In mall no. 1038 Sadad (Reef Mall)
Riffa
Block 914, Road 1412, Bank 588 Riffa / AlShammali Riffa, 973 (Al Raya Riffa)
Riffa Views
Riffa Views, Riffa
Seef Bapco Fuel Station ATM
Seef Bapco Fuel Station Seef, Riffa
Survey and Land Registration
Survey and Land Registration Bureau, Sanabis
Zayed Town Petrol station
Zayed Town Petrol station, Zayed Town