Earlier this year, we shared the news about a unique theme park opening in Bahrain. Well, that time has officially arrived! Dive Bahrain, the world's largest underwater theme park, opens to the public on September 7. Time to bring out your scuba gear, folks!
ALSO READ: Discover the Lost Paradise of Dilmun Water Park
Spanning an area of 100,000 square metres, Dive Bahrain includes sail structures, a replica of a pearl merchant's house, and the centrepiece… a decommissioned Boeing 747. You heard that right! The underwater theme park features a submerged 70-metre long aircraft. Wow!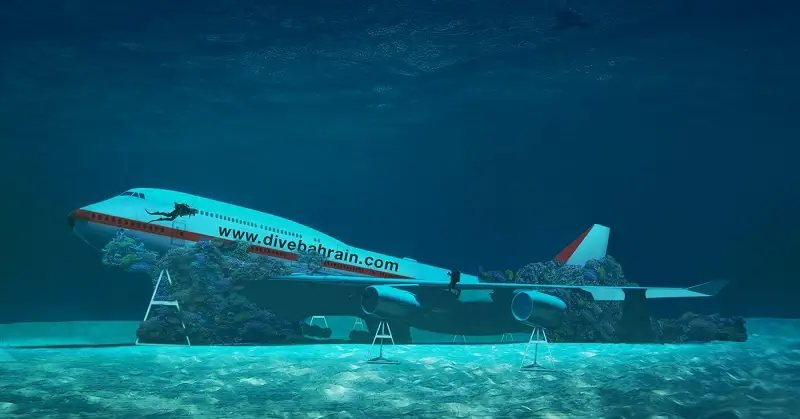 World's Largest Underwater Park Opens in Bahrain
Before its official opening, Dive Bahrain was inspected by a group of professional divers from registered dive centres. They were able to ensure that the park meets all safety requirements and is guaranteed to provide a safe diving experience for the public.
What exactly can we expect from Dive Bahrain? For starters, the underwater park:
Covers an area of 100,000 square metres
Features a 70-metre long Boeing 747 — the largest aircraft ever to be submerged!
Includes a replica of a pearl merchant's house and sail structures, as part of Phase 1
Would include sunken ships, reef balls, and other sculptures in the future
During the opening ceremony, a group of professional divers will perform an inaugural dive to explore the park, The Daily Tribune reported. They will be joined by Zayed Al Zayani, Minister of Industry, Commerce, and Tourism, along with Dr. Mohammed Mubarak Bin Daina, Chief Executive of the Supreme Council for Environment.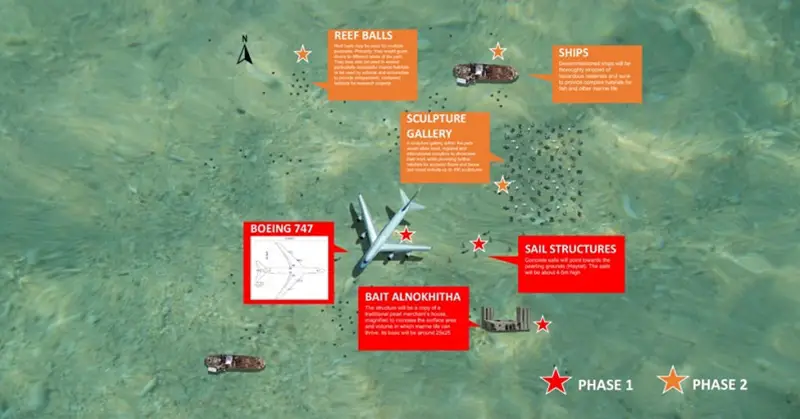 Dive Bahrain officially opens to the public on Saturday, September 7. Those who want to book a dive should first contact any of these dive centres listed on the company's website: Delma Marine, Dive Vision, Environment Arabia, Extreme Sportz, Scuba Life, and Scuba Master.
The ministry shared that these dive centres are the only registered ones, since all of them have participated in an orientation dive and are familiar with the park's rules and regulations.
Aside from offering an enjoyable diving experience, Dive Bahrain will also provide researchers with valuable information on marine biology and ecology. It also aims to raise environmental awareness on the importance of preserving marine life.
Check out this video of a diver exploring the submerged Boeing 747, as shared by Dive Bahrain on YouTube:
ALSO READ: A Visit to Wahooo! Waterpark in Bahrain
To learn more about Dive Bahrain and to book a unique diving experience, please visit the company's official website. On the other hand, if you are thinking about exploring other parts of the Kingdom, we recommend checking out this list of amazing places to visit in Bahrain.