UPDATE: Be advised that the One Health Pass system is no longer working and all travellers to the Philippines must register for an eTravel card. Please follow this guide for reference – Register Online at eTravel.GOV.PH Travel Pass to the Philippines
As more Filipinos return to the country due to the easing of the borders in their respective host countries, including the Philippines at the moment, authorities are looking for ways to accommodate them. One of the ways they do this is through the One Health Pass. Get ready to provide your health and personal details as accurately and honestly as possible and get started.
Since not all countries have yet progressed in the 'safe' list for inbound travel based on the Philippine government's standards, it's important to know where your host country is designated in the list. Moreover, check the requirements posted by the government – that's always the first place to start. From September 1, 2021, all airports and entry points in the Philippines will be utilizing the One Health Pass, which will allow visitors and Filipinos to enter the country. If this applies to you, make sure to read the rest of this guide.
Guide in One Health Pass Registration for Filipinos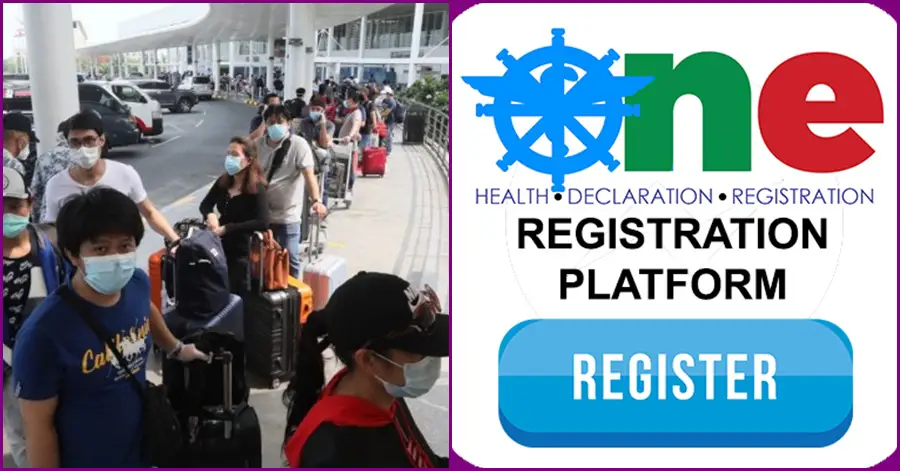 The Philippines has a new travel system that will allow its residents to easily enter and exit the country. Aside from making travel easier, this system also helps in ensuring the safety of travelers.
What is the One Health Pass?
One Health Pass is an online registration system that simplifies the process of obtaining a travel pass to the Philippines, wherever you'll be coming from.
What are the Requirements?
The system's main features are data gathering, management, and storage. As a result, it's critical that you enter your data as soon as possible and as correctly as possible.
You must enter correct and private information about your health and personal background since your data will be forwarded to the local government where you will be headed to.
To finish this task, go to https://www.onehealthpass.com.ph/e-HDC/ and fill out the health declaration and registration form.
Your travel documentation, such as your passport, airline ticket, and vaccination card, must also be presented at the airport (a screenshot will be fine). As a result, make sure you have all these essentials, whether for your departure or arrival.
Qualifications
Beginning September 1, 2021, all tourists and returning Filipinos will be subject to this new system, according to the Bureau of Quarantine (BOQ). All Filipinos going to or returning from their host nation – whether for work or travel, maritime or land-based – must register with this system to ensure a pleasant and safe travel experience.
Features and Benefits
The One Health Pass eliminates the need for passengers to carry a large number of paper documents.
Limiting their mobility within the airport also helps to lessen their virus exposure.
Travelers can save time and money on processing fees because the airport has access to this digital platform.
The system has several capabilities that allow you to track and record all of your data in a secure cloud. This decreases the amount of human effort necessary to collect and validate all essential data. It also allows you to focus on preparing for your return to work.
One Health Pass Registration: A Step-by-Step Guide (7 Steps)
Pre-Departure
Step 1: To get a transaction number, Filipinos going to or from the nation should register at least three (3) days ahead of time on the One Health Pass website (https://www.onehealthpass.com.ph/e-HDC/).
Note: Non-OFWs and foreign nationals must make a ten-day reservation at a Quarantine Hotel if they are arriving from a yellow or red list country. To find out which hotels are approved, go to www.onehealthpass.com.ph/quarantinehotels/ and look for a list of approved hotels. OFWs, on the other hand, will not be affected because they will be sponsored by the OWWA.
Step 2: Once the system has created your record, take a screenshot of it. When entering the Philippines, this step is needed.
Step 3: You must complete a health declaration checklist within 24 hours of your flight or before boarding.
Upon Arrival
Step 4: Show your OHP personal QR code for verification and hotel assignment when you arrive. After that, you will be escorted to an immigration official-led orientation before receiving immigration clearance and being routed to your transportation service or quarantine hotel.
Step 5: To clear your arrival, go to the Immigration Bureau, then to baggage claims and customs inspection.
The One Health Pass System will notify your local government unit of your travel status and if you are now permitted to travel overseas for employment or pleasure.
Step 6: Then you'll be told to employ a pre-arranged or certified mode of transportation.
Airport Taxi: Non-OFW and foreigners
OWWA Bus: OFW Land-based
LMA: OFW sea-based (Seafarers)
Step 7: (For those who must finish their quarantine time) You will be given your COVID-19 test result as well as a quarantine certificate once your quarantine period has ended.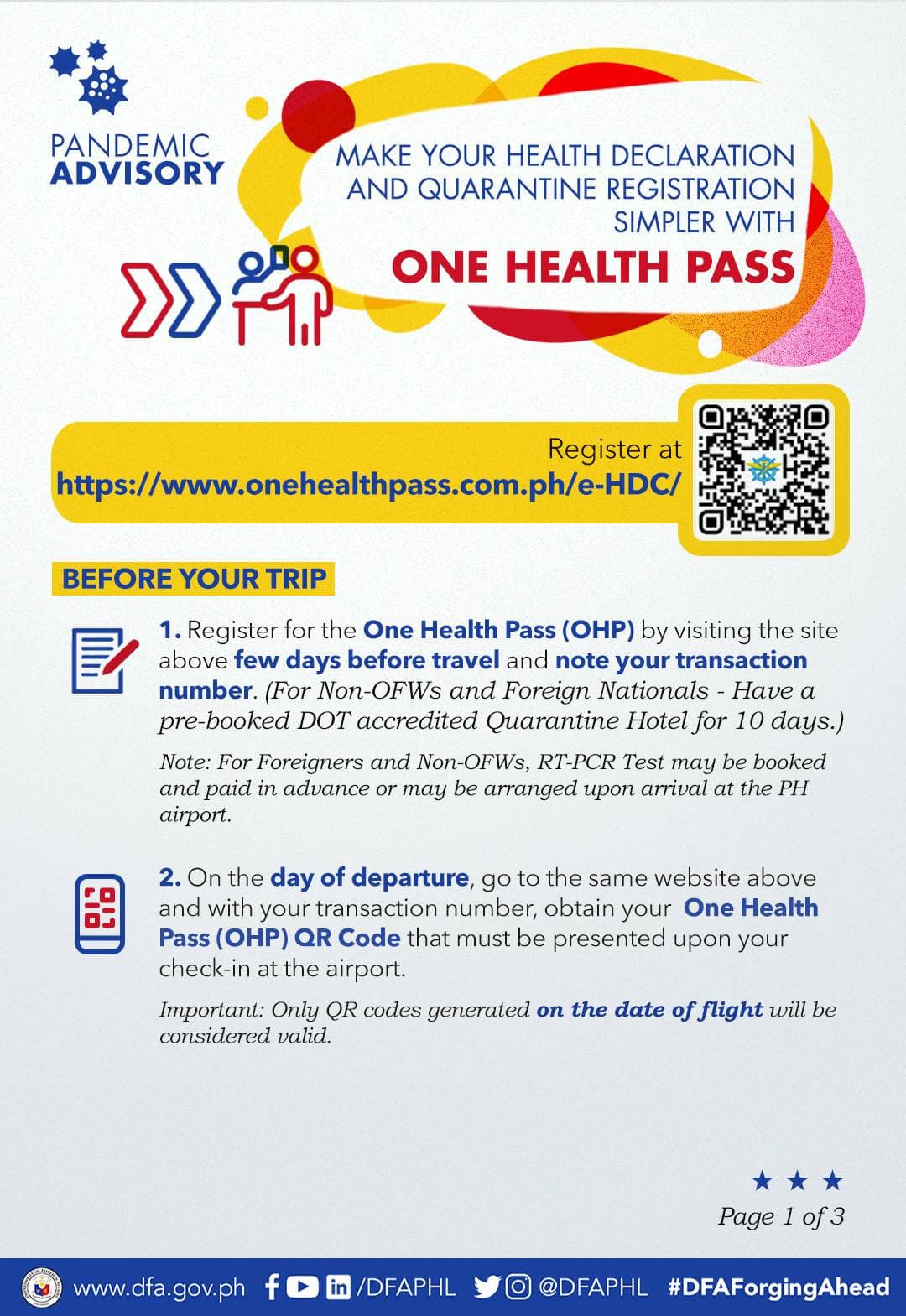 Credits: DFA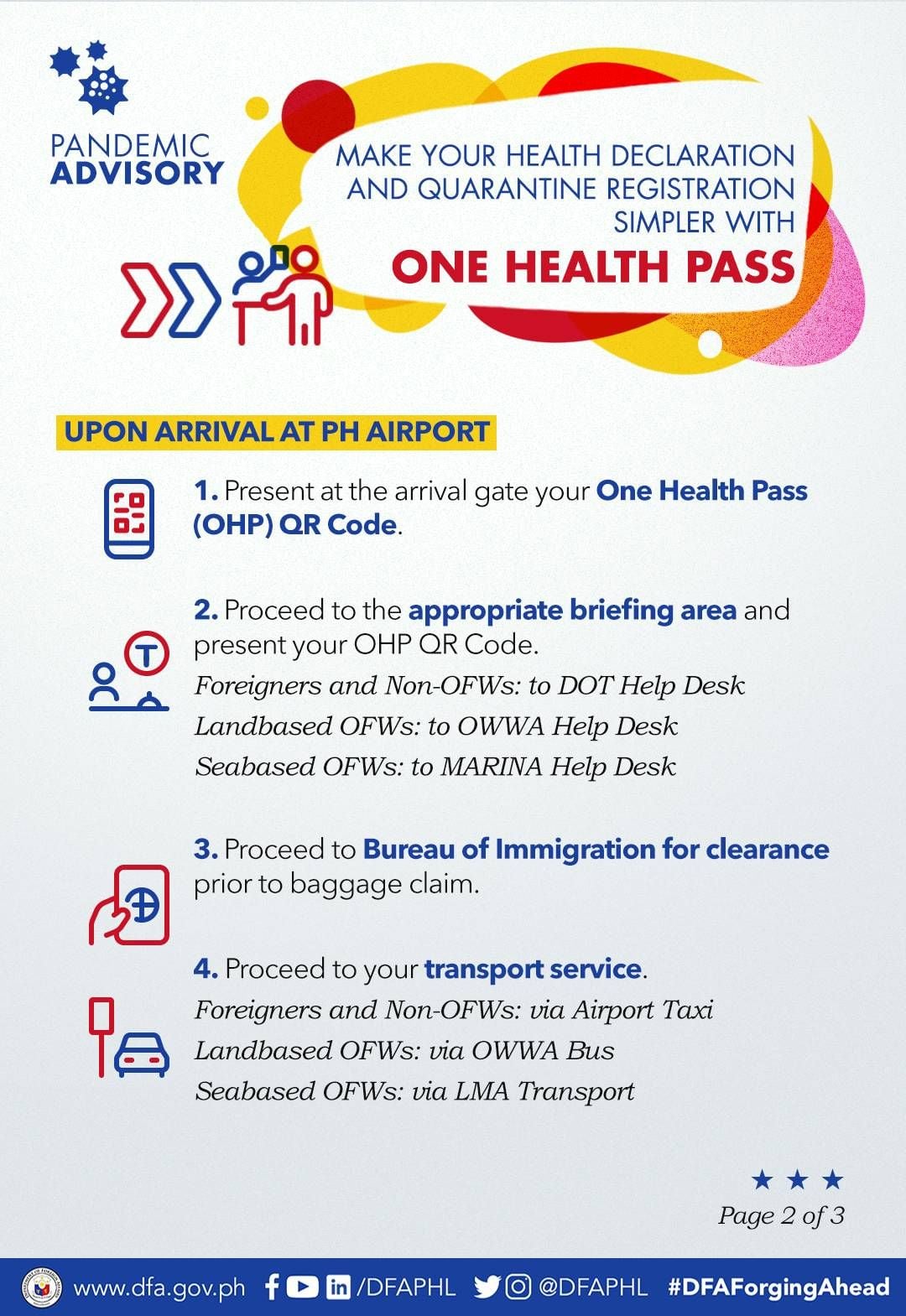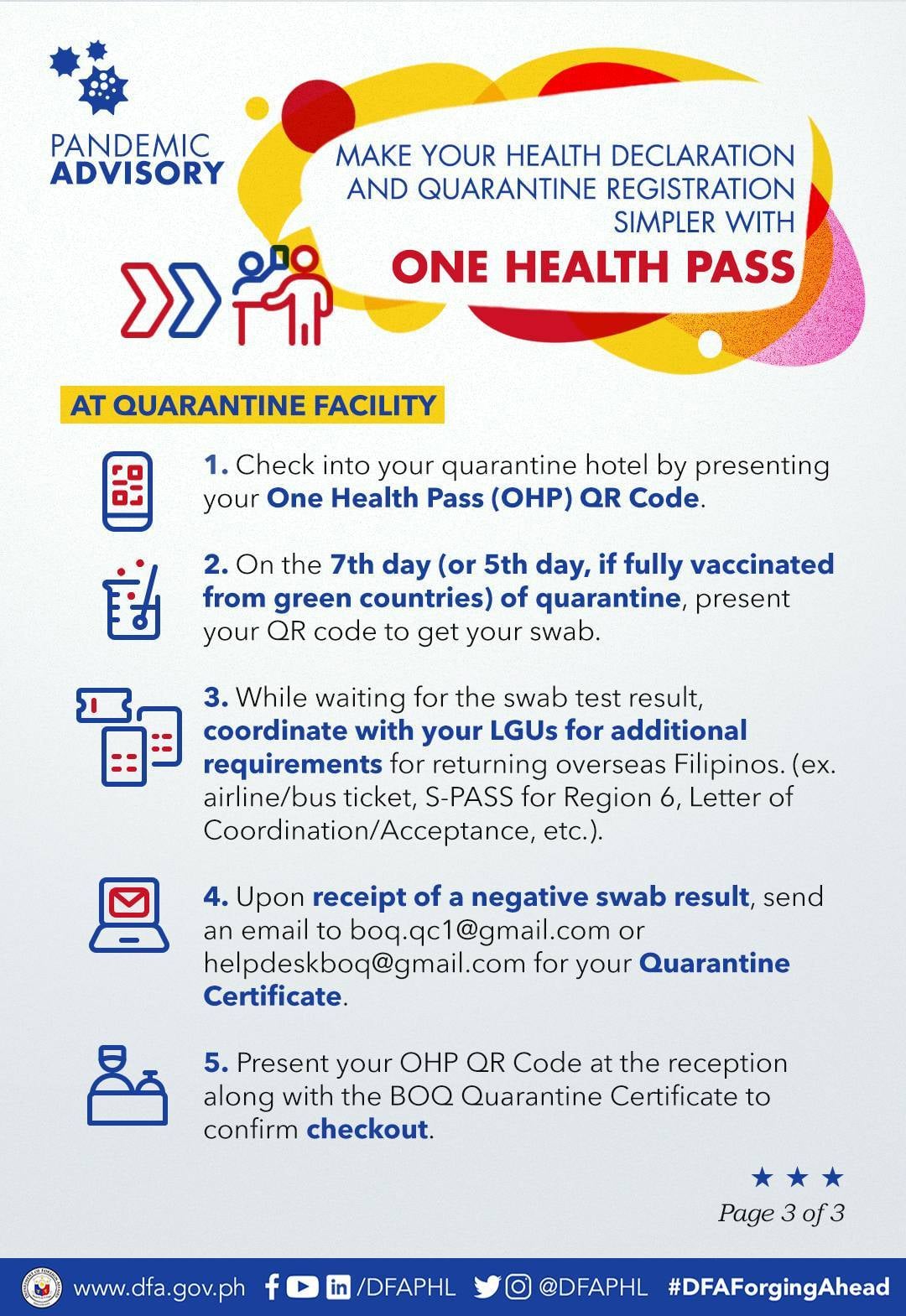 Video: Simple Guide to Registering for the One Health Pass
In this video, the vlogger talks about the various requirements and steps in registering for One Health Pass. The goal of the video is to provide you with a simple and secure way to register on the system. All overseas Filipinos and Filipinos working abroad must register using the new electronic system starting September 2021 to be able to travel back home or overseas. Aside from having the One Health Pass, you also need to comply with other requirements before traveling to the Philippines. This list will also vary depending on where you are and what your destination is.
Frequently Asked Questions (FAQs) Regarding the One Health Pass (OHP)
Because the OHP is still a relatively new technology, we've compiled a list of frequently asked questions about it.
Should I pay anything to register on the system?
No, there are no fees associated with registering on the system. Throughout your return or leave from the country, you will only need to supply information online and submit your data for national and local record-keeping, tracking, and monitoring reasons. As a result, you'll need to provide up-to-date and accurate information about your job, health, and status as an OFW/Filipino citizen.
When's the best time to register on the system?
This should ideally be done before boarding your plane. You can, however, register in the system three days before your scheduled departure. You may do this as late as when you get at the airport. At least 24 hours before your travel, you must complete the health declaration form. Bring a copy of your immunization certificate issued by the nation you're visiting. A screenshot of the actual or digital copy of the certificate would sufficient.
Will there be other documents that I need to submit upon arrival at the airport?
Yes, typical documents such as passports, plane tickets, and now your immunization certificate must be shown at the airport upon arrival. It's vital that you fill out the registration and health declaration forms on the One Health Pass website so that you don't waste time at the airport, but you can still fill them out when you get there – better do it ahead of time though and in the comfort of your own home (up to three days before your arrival in the Philippines).
Should I download an app to register?
The One Health Pass is an online system that lets you submit all of your personal, travel, and health information, as well as your immunization status. All of this information will be saved in a system that airport authorities and anyone who will receive you in your hometown or local government unit may access.
I am not an OFW, but a vacationing OFW. Do I also need to register?
Yes, all visitors entering or departing the Philippines, whether for business or pleasure, are required to fill out the system's form. Because the OWWA will assign OFWs to a quarantine facility/hotel, OFWs must be sure to specify this on the form. All other travelers must state on their application that they are traveling to the Philippines on their own initiative and that they will be responsible for any expenditures incurred as a consequence, according to local government regulations.
Final Thoughts
Many OFWs in Bahrain have been waiting for a long time to be able to book a flight back home – some months, others even years.  But as the world is slowly getting back on its feet with travel resuming, this is, without a doubt, a good thing for many OFWs since they can now book flights back home.
There are a few requirements, however, that need to be met in order to travel to and from the Philippines. One of these is making sure that we register for the One Health Pass, especially for those who are traveling back home for the holidays. Hopefully, through the help of this guide, you were able to better understand how you can utilize, and more importantly, benefit from this system, rolled out by the Philippine government to make travels safer and more convenient for all Filipinos, especially OFWs. This couldn't have come at a more opportune time since the holidays are almost upon us, and many Filipinos can't wait to come home this time after a long delay due to COVID.
READ NEXT: Guide to Working in Bahrain